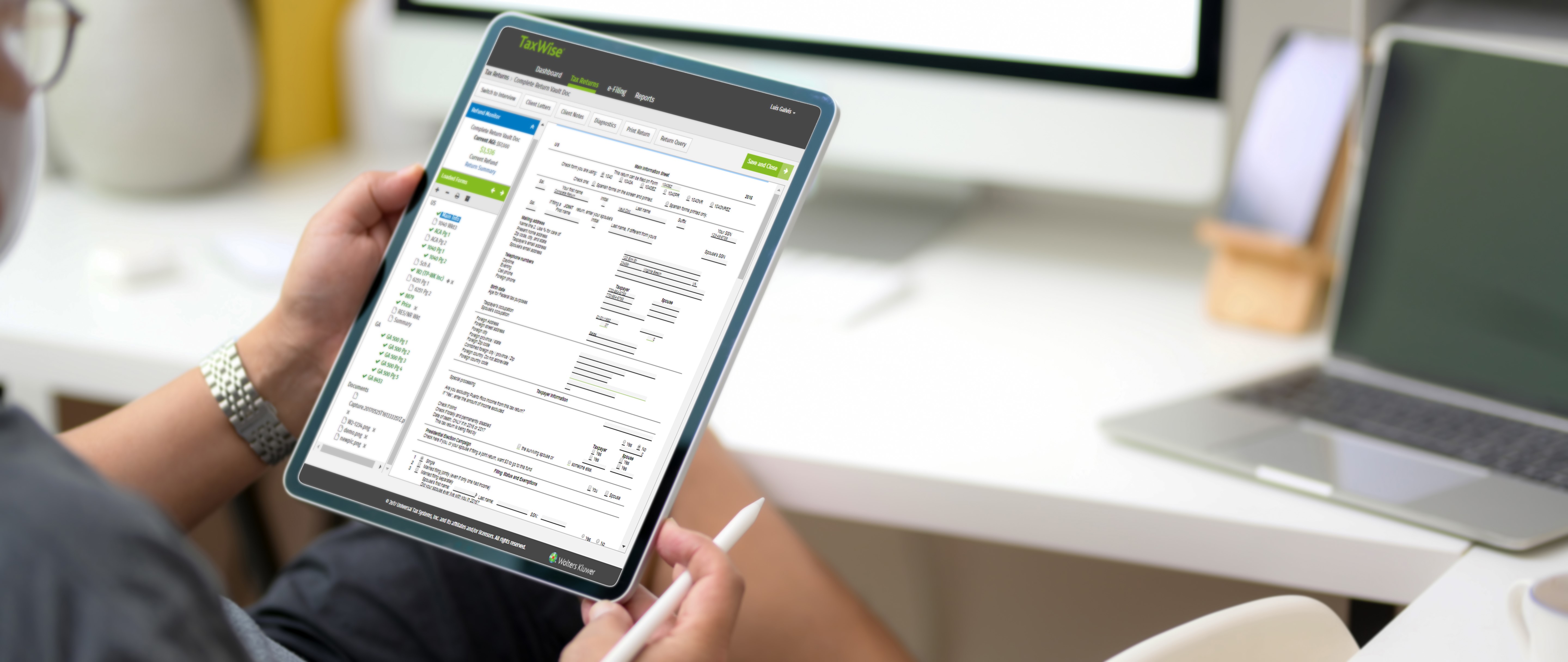 Tax & Accounting
February 02, 2021
Tax Preparers Leveraging the Right Technology Can Increase Their Profit Margins
Tax Season Success
Tax Preparers, you've got a limited amount of time to maximize your profits before the April 15th deadline brings your busy season to a close. Preparing more tax returns – efficiently, while continuing to provide quality service to your clients is key to the success and health of your tax preparation business. Performing an annual technology assessment can help you address potential gaps.
Growing Your Tax Business
"New clients prefer to use different technology – more mobile-friendly and digital, while your long-time customers would rather come to the office to bring their paper documents and see you in person", says Dawn Evanoff, Application Engineer for Wolters Kluwer Tax & Accounting.
To attract new tax clients, tax preparers need to provide remote client collaboration tools such as a client portal for secure file sharing, and a mobile interview tool for taxpayers to start their tax return preparation process by entering basic information from their smartphone or home computer. In an industry with such tight margins, saving 5-10 minutes per return makes a big difference in profitability. Here are a few other key things to consider:
Do you have the right tools to maximize your tax return prep time?
Do you have streamlined tools that allow your clients to fill out parts of their tax interview remotely using their smartphone?
Does your business have the right tools to thrive if we experience another 2020-like year?
Are your current processes and technology supporting your need to keep your client data secure?
Your Tax Season Technology Checklist
On-premise or virtual tax office preparation solutions — which makes more sense, especially during the continued pandemic?
Electronic signatures — can you provide a secure remote signing option? If you can't confirm the taxpayers' identity in person, your e-signature system needs to provide Knowledge-Based Authentication questions, like past addresses, current car loans, etc. As the pandemic continues, many of your clients may be more inclined to limit their in-office visits, so remote capabilities will be important.
Two-way business texting with your clients — many clients expect this convenience instead of a phone call, and TaxWise® Online provides integrated two-way texting from your business phone number, storing the entire text-message exchange securely with the tax return data.
Secure client portal — with cybercrimes on the rise, providing an easy and secure way to exchange sensitive tax documents is essential for every tax preparer. Uploading documents to a client portal provides heightened security over the commonly used practice of attaching files to an email.
Online document storage — TaxWise Online provides complimentary online storage of documents within each tax return, storing these securely in the Online Vault. You can easily upload documents stored on your computer or take a picture of new documents using your webcam. From the Online Vault, you can use our "Send to Client Portal" option to securely share documents with your clients.
Taxpayer mobile interview — your clients can choose to complete their tax prep interview and submit pictures of their documents from the comfort of their home. Potential new clients will find your customized mobile interview web page in your business website, an email or text from you, or a social media post (Facebook, Instagram, etc.). After completing the TaxWise Mobile interview, taxpayers will see their estimated refund amount range and will have the option to submit their interview data directly to your TaxWise Online, so that you can complete the tax return.
Refund Transfers — with TaxWise, you can choose from a selection of fee payment options; ranging from traditional refund transfer products (bank products) to low-cost options that help you collect your tax preparation fees at no cost to your taxpayer. Refund Transfer products help your clients get quick access to their money, with the option to receive their tax refund via direct deposit, check, or prepaid card.
Take Another Look Today
There is still time to review your current technology to ensure that you have a smooth tax season with solid profit margins. And with Virtual Tax Office solutions, there is no need to install, update, or meet minimum system requirements – just open a web browser and log in; anywhere, anytime.
We know tax preparers are dedicated to providing their clients with outstanding customer service. Having the right technology at your fingertips will help you increase your efficiency and profitability, allowing you to provide your clients with the type of easy, secure, and remote service they expect. Click here to watch our Tax Season Technology Checklist webinar recording and see these features in action.
Solutions for Tax & Accounting Professionals
Tax, accounting, workflow, and firm management solutions to help your firm succeed, with the research tools you need to stay informed.