The 'SMEs Go Digital' initiative aims to help small and medium-sized enterprises adopt digital technologies to seize growth opportunities and streamline their operations.
The 'SMEs Go Digital' initiative from Singapore's Infocomm Media Development Association (IMDA) aims to help small and medium-sized enterprises adopt digital technologies to seize growth opportunities and streamline their operations.
IMDA has successfully implemented this programme across several industries - Retail, Logistics, Environmental Services, Security, Food Services, to name a few - and is now implementing the same in finance. IMDA will be working in association with the Monetary Authority of Singapore (MAS) to implement this programme.
Under the SMEs Go Digital initiative, small to medium-sized financial institutions operating in Singapore will receive grants covering the implementation costs of adopting pre-approved cloud- and SaaS-based digital platforms. As part of the programme, Wolters Kluwer has been accorded pre-approved vendor status for its Regulatory Reporting SaaS solution.
The programme encourages banks to adopt modern digital technologies in support of their regulatory reporting obligations - effectively helping to remove cost as one of the major obstacles to migrating key operational elements to a modern cloud-based infrastructure.
The IMDA grant programme is open to financial institutions with 200 or fewer Singapore-based staff that are registered or licensed to operate in the city state, including those startup virtual banks scheduled to receive operating licenses in December, and the solution must be used in Singapore.
The grant covers a significant portion of initial implementation costs, and is in form of a 'package', with each package valid for two years. The hope of its sponsors is that the programme will provide qualifying institutions with the financial incentive to migrate to modern reporting infrastructures and abandon legacy solutions, which are often fragmented, highly manual, and prone to error.
As a pre-approved vendor in the SMEs Go Digital programme, Wolters Kluwer is helping eligible financial institutions to take advantage of the grants on offer to aid in their digital transformation. Qualifying banks can opt to deploy Wolters Kluwer's OneSumX SaaS solution, approved by IMDA/MAS under the programme, to modernize their regulatory reporting infrastructures.
Wolters Kluwer is already a leading supplier of regulatory reporting capabilities to financial institutions operating in Singapore and throughout the Asia-Pacific region. Its SaaS solution has been implemented and is available in APAC and Europe, making it a truly international solution that meets the needs of firms operating in Singapore.
By adopting solutions like OneSumX under the SMEs Go Digital programme, financial institutions in Singapore can shift their reporting mechanisms to the cloud without incurring the heavy investments usually associated with digital transformation projects of this kind. The grant is particularly welcome as firms are struggling to move forward with strategic infrastructure investments due to the uncertainty posed by the ongoing Covid-19 pandemic.
As part of the Regulatory Reporting SaaS solution, financial institutions receive: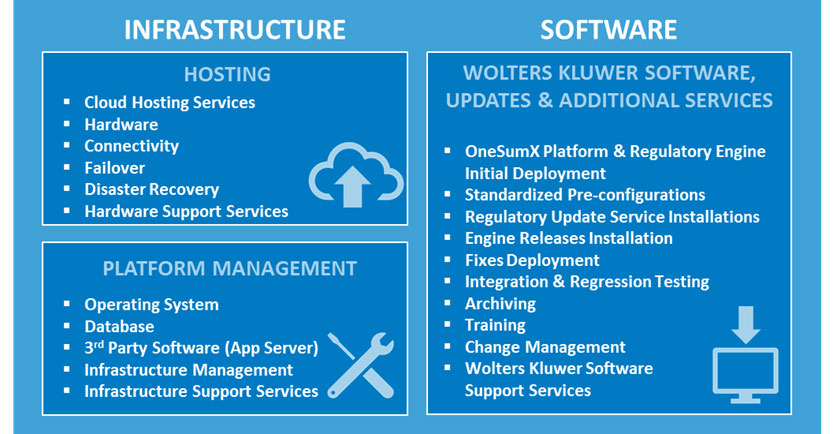 With the OneSumX solution suite, firms can look forward to the benefits of an entirely secure, fully managed, cloud-based solution that supports automated regulatory reporting. The solution also benefits from automatic updates from Wolters Kluwer's Regulatory Update Service (RUS). As part of RUS, Wolters Kluwer ensures that any regulatory change mandated by the regulator is provided to the client over the course of the engagement.
Other key benefits of our offering include:
The SMEs Go Digital programme presents small and medium-sized banks operating in Singapore with a risk-free opportunity to embrace digital technologies in their regulatory reporting activities. With clear support from the local regulator, the initiative represents a 'win-win' for the local marketplace as it continues to deal with the ongoing Covid-19 situation. By teaming up with Wolters Kluwer, banks can rest assured that they are working with an industry leader in regulatory reporting, both in Singapore and globally.