An essential clinical resource for medical librarians
Managing the wealth and scope of medical information is an essential role played by medical librarians. They ensure that the information provided to clinicians and other significant audiences is accurate, timely, and provides the best available evidence for use at the point of care.
Medical librarians impact the entire spectrum of care:
Curating and providing essential information to healthcare professionals
Supporting research projects and clinical studies
Promoting best practices development and compliance
Educating residents and patients, and supporting educational goals of academics
UpToDate: An unparalleled resource
For each of these vital informational needs, UpToDate provides trusted, evidence-based content and graded recommendations updated anytime new evidence or guidelines can impact care. Thousands of clinicians, many educators and researchers at leading institutions, follow a rigorous editorial process.
In a Journal of the Medical Library Association (JMLA) study1, clinicians ranked UpToDate as the most widely used Clinical Decision Support resource. And there's more: 100+ research studies demonstrate that widespread use of UpToDate at the point of care is associated with improved outcomes and hospital performance. This makes UpToDate an essential reference to any hospital or medical university's library collection.
UpToDate value for medical librarians

How medical librarians and UpToDate work together
When both trainees and seasoned professionals need support for research and reviews, they rely on medical librarians to connect them to the right resources, and with UpToDate, they can expedite that task without compromising quality.

The shared values of medical librarians and UpToDate
Medical librarians and UpToDate share the same values and the same commitment to the rigor and quality of medical information. UpToDate combines editorial rigor and usability to provide fast, accurate information anytime, anywhere.

A preferred tool for hospitals and health systems
Millions of clinicians around the world and two-thirds of U.S. hospitals use UpToDate in the workflow. That's why medical librarians know UpToDate provides value in their collection as a key clinical literature reference and point-of-care tool.

Helping consumers and patients make informed decisions
Medical librarians help patients and consumers find relevant, authoritative health information. As a resource, UpToDate offers nearly 1,500 patient education topics on medical conditions and procedures so patients can make informed decisions about their care.
Contact a sales representative
UpToDate offers clinical solutions for medical professionals and trainees, clinics and physician groups, hospitals and health systems, academic institutions, government and military, healthcare businesses, and patients.
Medical Library Association webinar, "Raise your strategic value to clinicians," now on demand.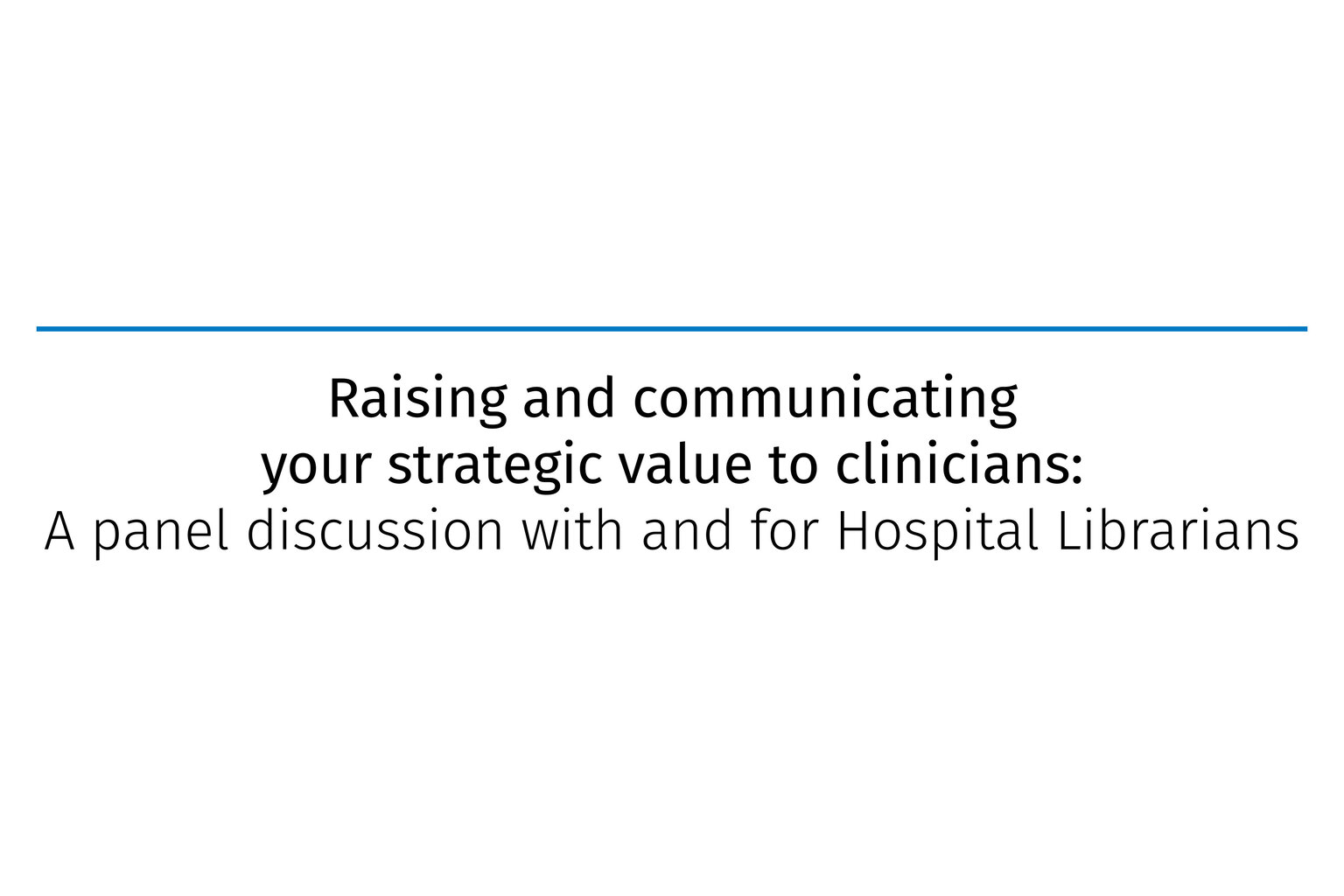 The role of medical and hospital librarians is rapidly changing and evolving; at the same time, we are experiencing a revolution in how medical information is exchanged and distributed. Changes in scholarly communication, the digital transformation of medical journals, the movement to open science, and the rapid pace of experimentation and research have made it extremely difficult for physicians and clinicians to keep current with medical literature, especially at the point of care. A moderated panel of expert practicing medical librarians will explore the challenges faced in communicating their intrinsic value to the institutions and organizations they serve.
Watch this on-demand webinar to learn more.
Runtime approximately 1 hour
Please tell us about yourself and your organization to access the full recording.
Related pages of interest
Clinicians Ranked UpToDate as the Most-Used Clinical Decision Support Resource in JMLA Study
A recent study, "The value of library and information services in patient care: results of a multisite study," published in the Journal of the Medical Library Association (JMLA), asked more than 16,000 clinicians to report on a recent incident in which they had sought information for patient care.
Findings: Survey respondents were asked to report on a recent incident in which they had sought information for patient care. The study found: UpToDate was the most used CDS tool by physicians and residents, used significantly more than any other CDS tool. Use of UpToDate followed closely behind only research studies.
(J Med Libr Assoc 2013 January; 101(1): 38-46.)