Setting the standard for intelligent document management
As a consumer lender, it's critical to keep the secondary market salability of your digital assets high and your risk low. Our eAsset® Management solution ensures that your document management practices adhere to and exceed all applicable digital lending laws—from signature to sale—to enable faster, more frictionless secondary market transactions.
Powerful, proven, purpose-built
Experience the efficiency and performance of Wolters Kluwer eOriginal® eAsset® Management, the solution that sets the standard for intelligent document management.
Achieve end-to-end efficiency in digital consumer lending
Wolters Kluwer eOriginal's eVault solution helps digitize your entire process by creating, storing and managing a single authoritative copy of every consumer loan. This SaaS solution integrates easily with your existing loan origination solutions for a more frictionless digital asset management process.
Reduce risk and improve marketability
Wolters Kluwer eOriginal eAsset Management is accepted by issuers, legal counsel and rating agencies that support secondary market transactions. It meets current safe harbor and securitization criteria for a transferrable digital asset for unsecured loans and the strict UCC-9-105 requirements for electronic chattel.
Our eVault solution can help you digitize your entire lending process by creating, storing, and managing a single authoritative copy of every consumer loan. Gain Digital Asset Certainty™ with an immutable digital record and a transparent, auditable digital chain of custody and legal standing.
Our experts have a deep understanding of the intricacies of secondary market transactions and their requirements to stand up vaults faster, help you execute more quickly, and ensure compliance.
Our powerful, proven, and purpose-built eOriginal eAsset Management solution provides a digital consumer lending platform that allows originators and their partners in the secondary market to realize scale that they never thought was possible.
Powerful
Our solution helps you maintain a clear chain of custody, protect the value of your consumer lending assets, and reduce risk exposure by meeting all Safe Harbor requirements and enabling legal enforceability under UETA, ESIGN and UCC 9-105.
Proven
With 20+ years in the digital lending space, our digital experts streamline compliant document management from origination to secondary market sales to accelerate outcomes.
Purpose-built
With more than 800 clients on our platform, streamlined vault-to-vault transfers help minimize costs, mitigate risk, and speed up secondary market transactions.
As a critically important component in consumer lending, implementing eVault technology is your next step toward an end-to-end digital experience.
Downloads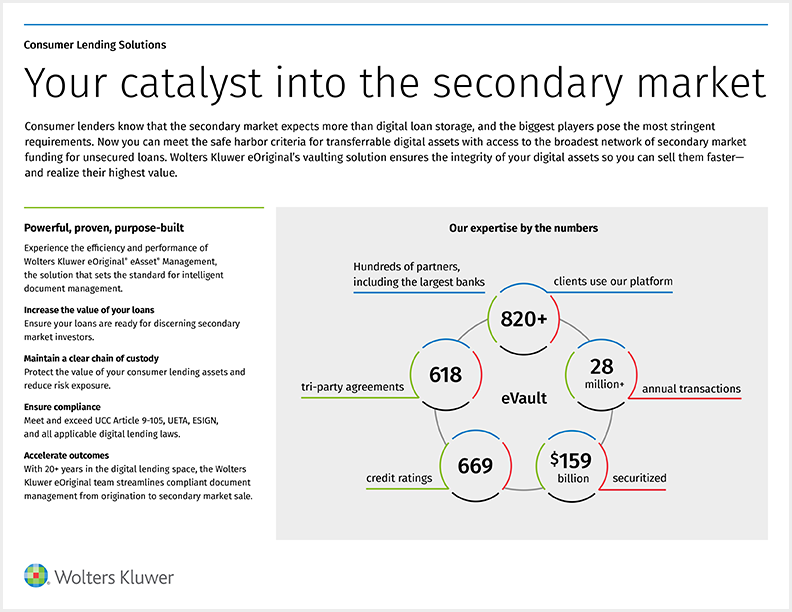 Schedule a meeting
Complete the form to request your appointment. By providing additional information, our team can customize the meeting to your specific needs.