Achieve company goals by defining and launching action plans
Whenever tasks need to be completed or a plan needs to be executed, companies create an action plan. However, managing these action plans, and providing visibility and accountability across the organization can be challenging. The AI-enabled Enablon Action Plans software application provides all employees a single, centralized portal, available via mobile devices, where they can access, complete and document all actions and tasks assigned to them.

Drive proactive, continuous improvement
Proactively prevent risk by implementing preventive measures that lead to continuous improvement. In addition, Enablon Action Plans software uses artificial intelligence and machine learning to suggest the most effective action plans in response to events.

Streamline and improve action plans
Automatically track CAPA plans and action items. Manage scheduled tasks, work types and priorities. Enhance accountability of action owners. Gain visibility on all outstanding action items at the corporate level or at any individual entity.

Better task management
Configure validation workflows according to your needs. Get an overview of all tasks, task owners and task types. Assign tasks through mobile devices. Send reminders and notifications automatically to task owners and reviewers.

Manage and monitor performance
Associate action plans with corporate objectives. Complete performance targets on time and analyse results. Optimize costs and time by gaining visibility over resources used to complete actions. Identify organizational bottlenecks through an overview of all actions.

Mitigate risks
Prioritize risk mitigation tasks at the corporate or entity level. Identify employees, departments and action items responsible for the completion of risk management objectives. Ensure effective completion of actions and tasks needed to put controls into place.

Ensure regulatory compliance
Manage the assignment and completion of regulatory compliance tasks. Track the status of tasks and action items in relation to regulation-specific deadlines. Demonstrate compliance through an audit trail of actions.
Want to know more?

For additional information, download our brochure or contact us.
Enablon offers a large set of applications to manage operational risks, ensure compliance, improve performance and engage with stakeholders. Find the ones that fit your needs.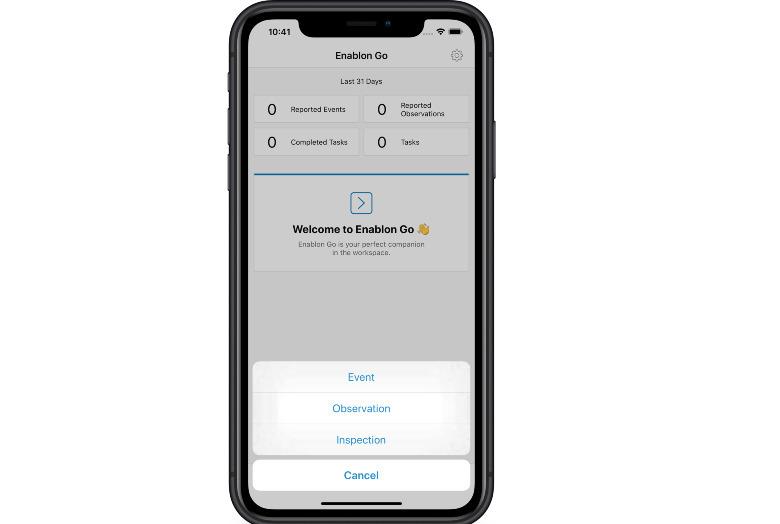 Enablon Go
With Enablon Go, improve EHS performance and reduce risks by easily reporting or accessing information, and performing critical tasks from anywhere and at any time.