I was overjoyed to know that someone else could take care of state, county, town and city business license applications. Very professional company to work with.
Very responsive and seems this will be a great resource to build a relationship with. Both specialists I spoke with were confident, informative and very professional.
Overview of pharmaceutical licensing
Any individual or organization that manufactures, distributes, administers, and sells drugs with a prescription and medical apparatus is required to be properly licensed or face steep fines and possible criminal prosecution in the event they are non-compliant or delinquent.
The licenses required are dependent on the type of activity being conducted as each line of business within the pharmaceutical sector has unique regulations. Each individual or organization must have all adequate business licensing and permits in place before they can legally operate. Aside from general business licensing, there are sales tax considerations, seller permits, zoning and land use permits, and more that companies must be aware of. It is critical to have a strong compliance strategy in place to ensure no license is overlooked and that all remain active and in good standing to avoid steep penalties that will impact your business.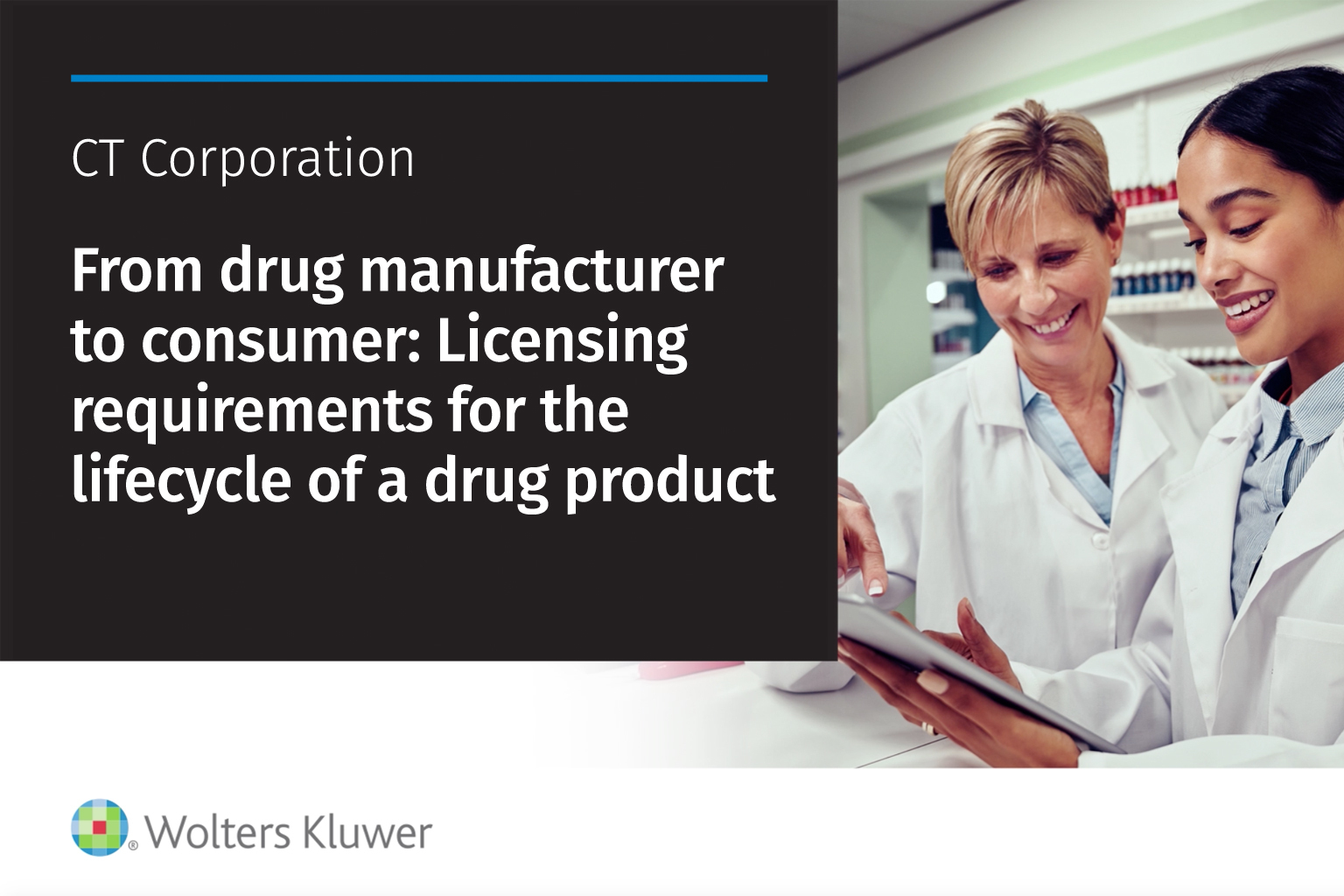 Business licensing requirements for the lifecycle of a drug product
Business licensing laws apply at unique stages of a drug product's lifecycle.

These regulations from state and federal governments extend to anyone who manufactures, distributes, dispenses, and sells prescription drugs and devices.
Frequently asked questions
How does a wholesale drug distributor get NABP Drug Distributor Accreditation (DDA)?

NABP Drug Distributor Accreditation (DDA) is an accreditation issued by the National Association of Boards of Pharmacy to wholesale distributor facilities. The accreditation ensures that facilities operate legitimately in full compliance of state and federal laws. Twenty one states recognize the accreditation and North Dakota, Wyoming and Indiana require it as an element of the licensure process. The accreditation process involves verification of the distributor's existing state and federal licenses, criminal and financial background checks, and a detailed review of the company's policies and procedures. The application also requires a $100,000 surety bond, proof of insurance, photos of facility, list of customers and vendors, a detailed business description and an ownership chart.

The policy and procedure guides required are extensive. Formal company documents must be submitted in the areas of licensing and compliance with laws/regulations, operations, security, records, and many more. These documents must lay out a detailed plan of action for achieving the highest standards of compliance.

The application process takes 7-12 months. The initial fees are approximately $5,000, but they vary based on the number of background checks required. Annual renewals and documentation are required to maintain the accreditation.

Our services will help your company obtain all licenses and registrations and manage ongoing license renewals and compliance with state laws and regulations. For additional please contact CT Corporation

Is it legal to send prescription drugs through the mail?

It is only legal for entities that are registered with the Drug Enforcement Administration to send drugs through the U.S. Postal Service. For example, a drug manufacturer, a registered agent of a drug manufacturer, pharmacy, medical practitioner, mail-order pharmacy, or another authorized dispenser.

Every state in the country requires mail-order pharmacies or web-based pharmacies to be properly licensed before they can legally operate in that state. For every state in which an order is placed, the appropriate license is required but additionally, each state varies on which authority regulates this type of business and what additional licenses are necessary.

State licensing laws and state public health codes all have specific requirements that must be met. CT Corporation streamlines the licensing process for your business so that you can be certain that your mail order pharmacy is fully compliant with all registration requirements.

Do states require licenses for sterile compounding facilities that are registered with the Food and Drug Administration (FDA) as outsourcing facilities?

A facility that compounds sterile drugs may elect to register with the Food and Drug Administration (FDA) as an outsourcing facility. The registration will help the FDA identify and regulate these facilities. In addition to the FDA registration, many states are beginning to require licenses for outsourcing facilities. For example, states such as Delaware, New York, Mississippi, and Ohio have enacted specific licenses requirements for FDA registered outsourcing facilities. Other states have pending regulations to enact non-resident outsourcing facilities that ship compounded sterile drugs into their states to register as outsourcing facilities. Since these rule changes rely on existing federal law, pharmacies should not wait to comply with any state license requirements that may be required.

CT Corporation tracks all licensing regulations in all states for outsourcing facilities. CT Corporation will help guide FDA registered outsourcing facilities through the changing landscape of licensing requirements and regulations. We can help you obtain all of the licenses and registrations you need, minimizing time-consuming and costly delays. To get started,

please contact CT Corporation

.

How long does it take to get a wholesale drug distributor license?

The licensing process for Wholesale Drug Distributors varies significantly from state to state. States, along with the federal government, have an interest in maintaining the availability of safe and effective drugs for public. Depending on the state, licensing approval timelines for Wholesale Drug Distributors range from weeks to months. Let CT Corporation streamline the process for you by providing comprehensive research to ensure that all of your licensing requirements are met.

All fifty states require Wholesale Drug Distributors to obtain a license before they may engage in any wholesale drug distribution activities within the domestic state. The procedures that each state follows vary, and the more information required by the state, the longer the process may take. Most states require background checks, submission of facility floor plans, proof of insurance, disclosure of all operating officers, and surety bonds for liability purposes. In states like Alaska where the licensing requirements are fairly straightforward, a business may obtain its Wholesale Drug Distributor License within two to three weeks. However, in states such as California, the process may be far more tedious, requiring not only the basics, but also requiring the Wholesale Drug Distributor to obtain approval by both the FDA and DEA. A handful of states also require VAWD certification by the National Association of Boards of Pharmacies, or a similar entity. In states requiring additional certifications, the processing time may range from one to three months. Furthermore, should a Wholesale Drug Distributor choose to expand into another state, the licensure process must be recommenced in the new state, resulting in additional processing time.

Failure to comply with licensure requirements for Wholesale Drug Distributors may result in civil and/or criminal penalties at both the state and federal level. Wolters Kluwer assists with license compliance by making sure Wholesale Drug Distributors stay up to date on licensure requirements, filings, and renewals so you can focus on growing your business. We will complete all applications on your behalf both efficiently and accurately, and ensure that your licenses remain up to date. Please contact CT Corporation to consult a licensing specialist.

What licenses do Wholesale Drug Third-party Logistics Providers (3PLs) need?

Third-party logistics providers offer "supply-chain" services to producing entities, maintaining one or more cogs in the flow of goods and products from the initial point of production to the final destination – the consumer.

Whether you are a group that specializes in obtaining raw materials needed for drug manufacturing, a storage facility that houses a distributor's product while it is being prepared for shipping, a trucking company that transports pharmaceuticals from one place to another, or a comprehensive 3PL that handles all of these services together, there are important legal requirements that your business must satisfy.

3PL Licensing

United States law requires a wholesale drug 3PL to be licensed in the state in which it does business. In certain states, there is a license specific to third-party logistics providers. Florida, for example, requires 3PLs to obtain a Third Party Logistics Provider License from the Division of Drugs, Devices and Cosmetics. Other states may not have a specific 3PL license and may require the 3PL to become licensed as a wholesale drug distributor or other type of entity. The department that administers the appropriate license varies from state to state as well. If the 3PL transports drugs between states, it must be licensed in all of the states in which it does so. If the state in which the 3PL does business has not established a 3PL license requirement, the 3PL must file with the U.S. Secretary.

Applying for the appropriate license in each required state can be comprehensive and time-consuming. Applicants will typically be asked to provide samples of contracts, lists of customers and states in which the 3PL operates, and proof of general liability insurance. Application fees can range from several hundred to several thousand dollars. If you maintain a brick-and-mortar facility, you will more than likely be subject to state inspection of that facility. The entire approval process can take between four weeks and three months depending on the licensing division in the state in which you are applying.

Other Requirements

In addition to obtaining a license in each state in which your 3PL operates, there may be other requirements that your company must satisfy in order to remain compliant. For instance, the FDA requires that a wholesale drug 3PL file an annual report of every state in which it operates, its applicable license numbers and expiration dates, and records of any disciplinary actions it incurred that year. It goes without saying that failure to comply with any facet of federal 3PL regulations can result in heavy fines, cease-and-desist orders, and potential disintegration of your business.

How can CT Corporation help third-party logistics providers?

CT Corporation will research the licensing requirements for every state and jurisdiction in which you operate.
Your Dedicated Account Manager will then prepare and submit your 3PL license applications and consolidate all license fees into one simple invoice, saving you time, money, and frustration.
Once your licenses have been issued, we ensure that you renew on time and remain compliant will all 3PL licensing laws.

If you're a 3PL, you recognize the benefits of outsourcing complicated aspects of an industry to experienced professionals. Let CT Corporation handle the licensing of your third-party logistics provider. Please contact CT Corporation to consult a licensing specialist.
Need to consult with an expert? Contact us.
Knowledgeable. Dedicated. Personable. Our people make the difference.