Due to covid-19 and testing site limitations, temporary NCLEX parameters are in place through September 30, 2020:
The exam has a shortened time limit of

four

hours
The minimum number of test items is 60
The maximum number of test items is 130
The difficulty level and passing standard is unchanged
Lippincott® PassPoint can mimic these test parameters to help students practice for this modified exam.
Students have a 97.18% NCLEX-RN pass rate with Lippincott PassPoint, which allows them to study smarter with personalized adaptive practice, and simulated exams.
PassPoint offers:
Adaptive quizzes to test you at the right difficulty level
Detailed rationales tell you why your answers are right or wrong
Remediation to evidence-based content helps you critically think through situations using content already in use by practicing nurses nationwide
Unlimited simulated exams adapt just like the real NCLEX-RN—take as many exams as you want
Personalized reports help you focus your study more effectively
We also offer you the chance to sign up to receive a Lippincott PassPoint Question of the Day—a free sample NCLEX question delivered straight to your inbox daily.
Preparing for the NCLEX in a Remote Environment Using PassPoint
Be sure to check out this on-demand webinar to learn more about the exam, temporary testing parameters that are in place due to COVID-19, how the NCLEX works, study tips, and strategies intended for nursing students.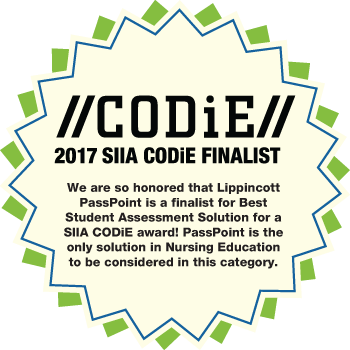 Check out more of our NCLEX prep products, which include the most up to date NCLEX review books, including: