New report offers guidance for healthcare leaders to address nursing shortage and improve retention as 92% of respondents suggest nurse labor shortage will get worse.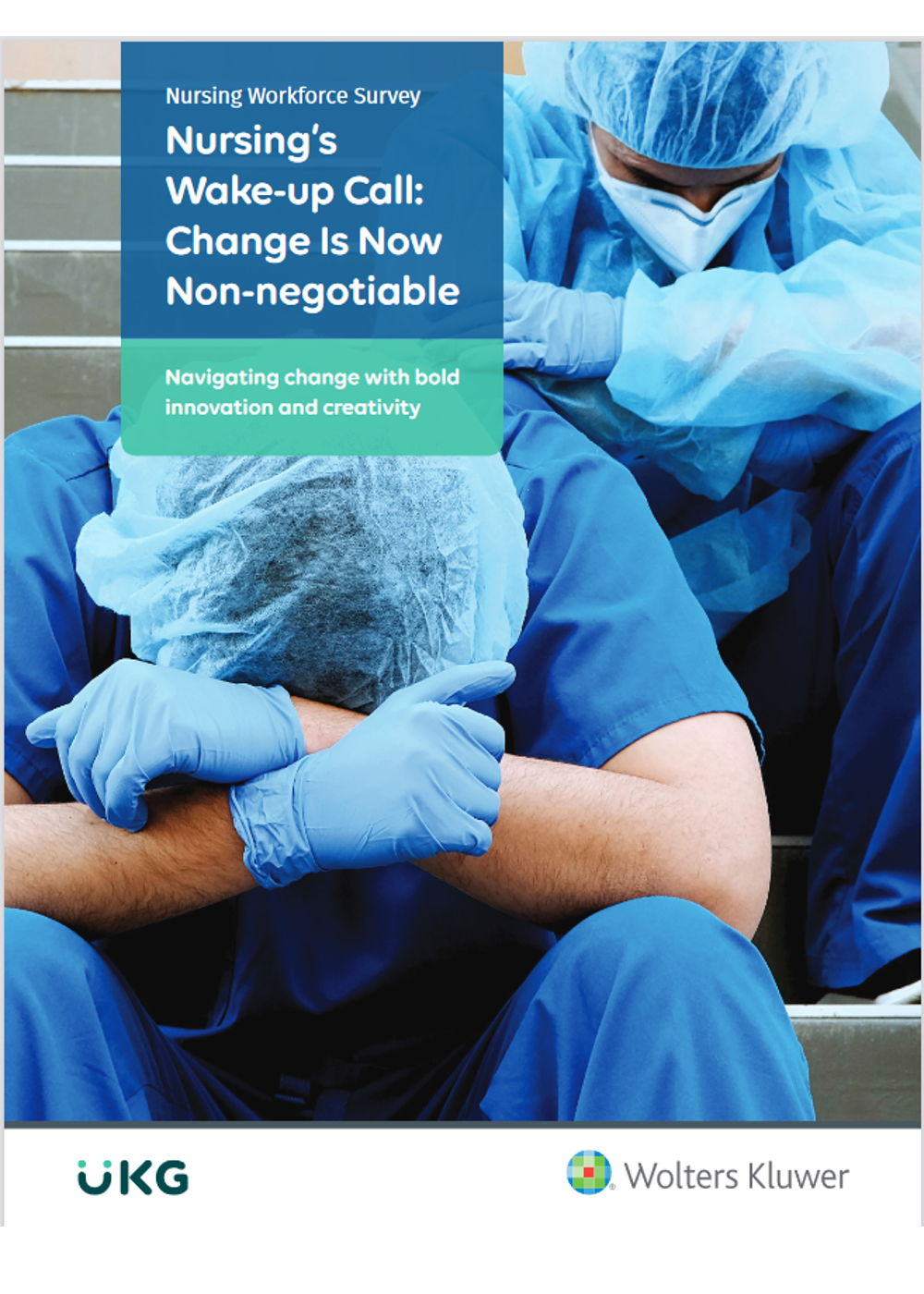 A lack of action to better support our nation's nurses amid a global pandemic could exacerbate the current staffing crisis, according to new research published by Wolters Kluwer in partnership with UKG. "Nursing's Wake-up Call: Change is Now Non-Negotiable" assesses current and future states of nursing labor models, offering a snapshot of how nurse staffing and care delivery models have evolved to address the profound challenges brought on by COVID-19 and an intensifying labor shortage. The survey of more than 300 nurse leaders in the United States was conducted in late 2021 and sheds light on opportunities for change across care settings to correct course and ensure the best care for patients.
Survey results point to disconnects between what nurse leaders see as short- and long-term challenges and the strategies their organizations currently have in place or planned to respond to today's nursing crisis. The survey found that potential levers for change include staffing levels, workforce flexibility and resiliency, and technology implementation to optimize productivity. By taking a more active role in understanding the challenges on the frontlines to inform future strategies, nurse leaders can help change the current trajectory while improving workplace satisfaction and the quality of care delivered.
Specific findings across care settings include:
The nursing labor shortage is going to get worse: 92% of respondents predict they will be short of budgeted headcount over the next 18 months.
Leaders face challenges with both retention and recruitment: 58% of respondents do not expect to bring in additional staff or new roles due to financial constraints and are focused on how to retain their current workforce.
Adoption of alternative care models is slow. Acute and ambulatory settings have been slow to embrace new models of care, but success with float pools during the pandemic is an opportunity for expansion: 92% of respondents in the acute setting plan to expand or establish float pools in the next 18 months.
Flexibility for nurses is still lacking. Despite widely reported burnout, respondents generally expect few changes in shift duration after the pandemic with the average shift remaining 12 hours for nurses in acute and post-acute settings and 8-hour shifts in ambulatory settings.
Staffing processes are still largely manual. 75% of respondents use staffing technology in some capacity, but day-to-day staffing is often handled manually.