Meet statutory, financial and management disclosure requirements with ease in CCH Tagetik's end-to-end solution
CCH Tagetik, powered by the Analytic Information Hub, takes the human effort — and human error — out of the last mile of finance. Instead, our software automatically populates the latest results into reports, giving you the confidence that your annual filings, board books, and management presentations are up-to-date with the latest numbers.
Whether you're creating financial, statutory, or management disclosures, our end-to-end platform automates all checks and balances, while normalizing and validating data. The result? Your disclosures are accurate, consistent, and compliant with the IFRS or multi-GAAP you're subject to. You'll spend less time verifying disclosures, and more time on value added activities, like analysis.
3 reasons why CCH Tagetik Disclosure Management let's you focus on your business
Read what our customers have to say
Leonardo (Ex Finmeccanica Spa)
With CCH Tagetik, consolidation and management reporting are now at the core of our group's financial management. Thanks to the software's greater flexibility, it allows our teams to improve their response time.
We wanted a solution that could accelerate and simplify our management reporting processes. With CCH Tagetik for Disclosure Management, our finance department can work more effectively to ensure consistent, reliable data and faster monthly reporting cycles.
CCH Tagetik has accelerated our reporting processes and improved our financial and business analytics. We have gained more control over our financial data and can produce four-week reports and analyses for our executive board faster and more efficiently than before.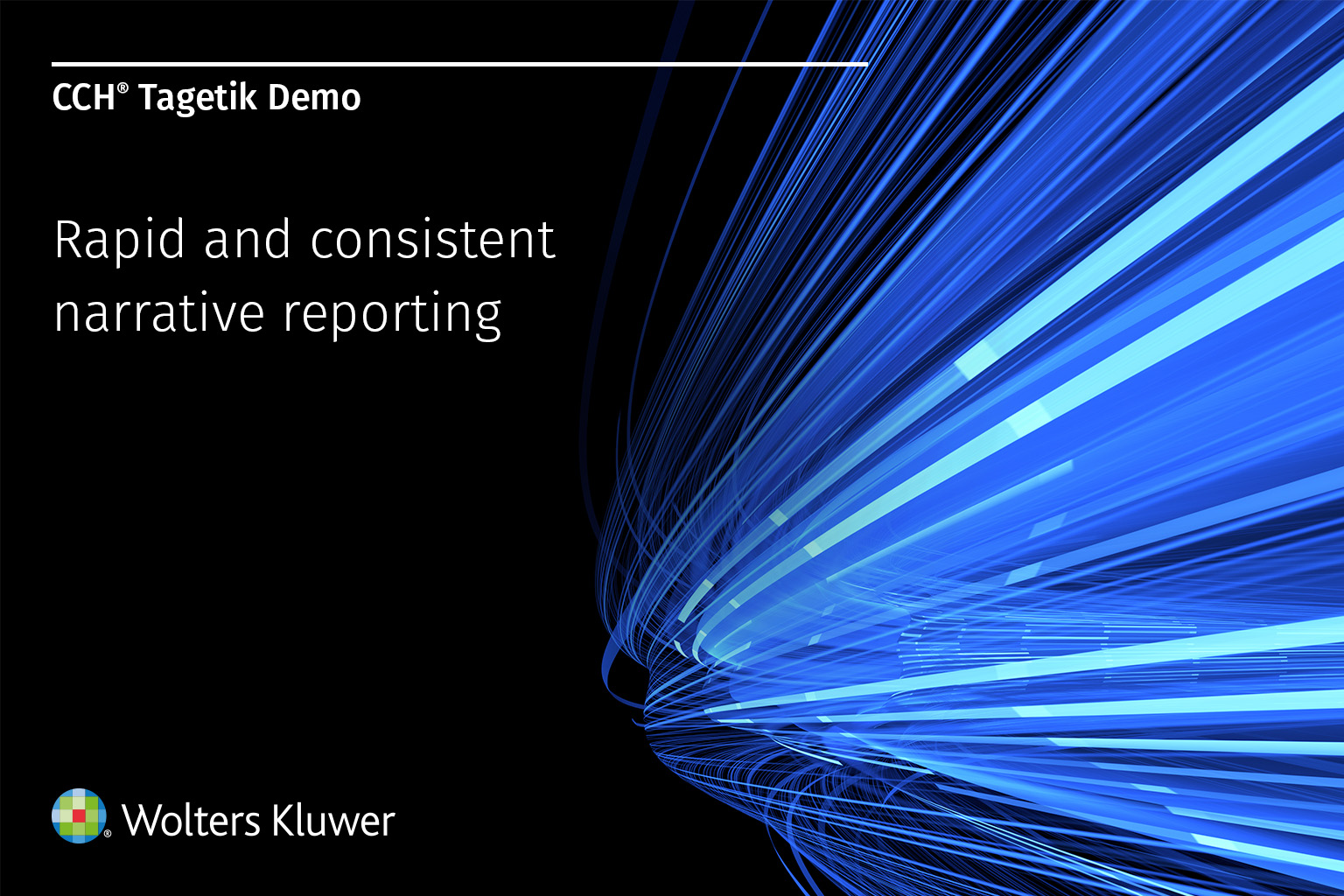 The benefits of CCH Tagetik Disclosure Management
From close to disclosure, CCH Tagetik cascades data — consolidated according to the standard of your choosing — into any output. Whether you're creating a net new report, rolling one forward, or simply updating a document, our end-to-end solution makes it easy.
Dynamic reports refresh quickly with updated figures
Increase confidence with a single source of data
Microsoft Office integration ties numbers to narrative
Multiple users can collaborate simultaneously
Full traceability with audit logs for any change
Automated data, CPM powered narrative with CCH Tagetik Disclosure Management
CCH Tagetik integrates with Microsoft Office, powering documents and presentations with automation and collaboration tools. Our single data source unites all ERPs, CRMs, and existing applications. Your team will always be confident they're working with the right data.
Use familiar tools like Microsoft Word, PowerPoint, and Excel
Align text to numbers with automatic narrative adjustments
Avoid version overlap with support for simultaneous users
Get a single version of the truth by centralizing data
Speed up disclosure with pre-built templates
Happy Customers
CCH Tagetik's Disclosure Management is trusted by leading companies across all industries.
Explore related solutions