UpToDate, Lexicomp, Emmi, Medi-Span, Sentri7 and POC Advisor* solutions recognized by Frost & Sullivan as key enablers of informed decision-making at the point of care.
Wolters Kluwer, Health, a leading global provider of trusted clinical technology and evidence-based solutions, is recognized by Frost & Sullivan with the 2021 North America Company of the Year Award. The honors follow Frost & Sullivan's assessment of the North American clinical decision support (CDS) solutions market. The complete portfolio of Wolters Kluwer CDS solutions were highlighted for helping clinicians meaningfully improve clinical decision-making, reduce diagnostic errors, and prevent workflow disruptions.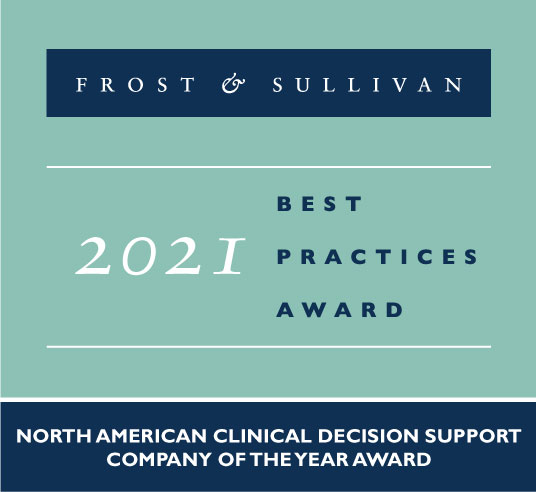 "Our commitment has always been to empower clinicians and patients to make informed care decisions based on evidence-based content, and that requires delivering trusted information within their workflow," said Greg Samios, President and CEO of Clinical Effectiveness, Wolters Kluwer, Health. " This recognition by Frost & Sullivan is a testament to our diligence in ensuring our solutions help align decision making across the continuum of care, helping to reduce care variability and improving outcomes."
Aligned solutions and harmonized content
As care teams have expanded, clinical decisions are being made across a more significant number of roles, introducing the risk of misaligned decisions. When expanded care teams consistently use CDS solutions, clinicians can focus on fostering more aligned decision-making on behalf of their patients. That, in turn, can help to standardize care and improve outcomes.
Frost & Sullivan recognizes the Wolters Kluwer editorial team for its commitment to harmonizing content across its core CDS solutions. This coordination contributes to the availability of solutions that draw from the same evidence to help address the unique needs of clinicians and their patients along the entire care continuum. This supports the company's ability to deliver on a commitment to provide the best care everywhere.