University Hospitals of Leicester NHS Trust Adopts UpToDate Anywhere for Quick Access to Trusted, Evidence-based Clinical Information at the Point of Care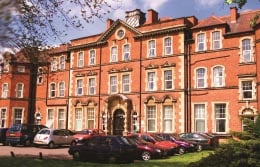 University Hospitals of Leicester, known locally as Leicester's Hospitals, is one of the largest and busiest National Health Service trusts in the United Kingdom. With nearly 12,000 staff treating more than one million patients per year, the Trust is comprised of three main hospital sites: Leicester Royal Infirmary, Leicester General Hospital, Glenfield Hospital, as well as a Children's Hospital. Leicester's Hospitals is nationally and internationally recognised as a top specialist treatment centre for cardio-respiratory diseases, cancer and renal disorders.
Leicester's Hospitals adopted UpToDate in 2012 to support the focus on quality, safety and innovation in patient care. Since that time, clinicians have come to rely on UpToDate for access to the latest medical information and evidence-based recommendations for screening and treating patients.
"Clinicians in our hospitals are passionate about UpToDate," said Sarah Sutton, clinical librarian at Leicester's Hospitals. "I'm well aware of the many studies about the benefits of UpToDate and the importance of evidence-based medicine. But my high opinion of this resource really stems from the fact that all of the high-level clinicians I work with use UpToDate regularly and are so confident in it."