Transform the burden of the tax reporting process
into a competitive advantage using
CCH Tagetik Global Minimum Tax
Time is running out for multinational corporations to cope with the requirements of OECD's BEPS Pillar Two. Since this directive strikes at the center of consolidation processes, finance and tax teams are scrambling to align internal processes while CFOs add tax to their strategic agenda.

CCH® Tagetik Global Minimum Tax eases the transition, enabling you to cover BEPS Pillar Two process — strategically.

CCH Tagetik Global Minimum Tax takes a top-down approach to tax management acting as a lighthouse that guides your tax strategy toward favorable outcomes. By connecting BEPS Pillar Two considerations directly to consolidation, our solution harmonizes the new tax process across local closing and group consolidation. With fully aligned processes, you're supported in coping with Pillar Two requirements and able to assess its material impacts.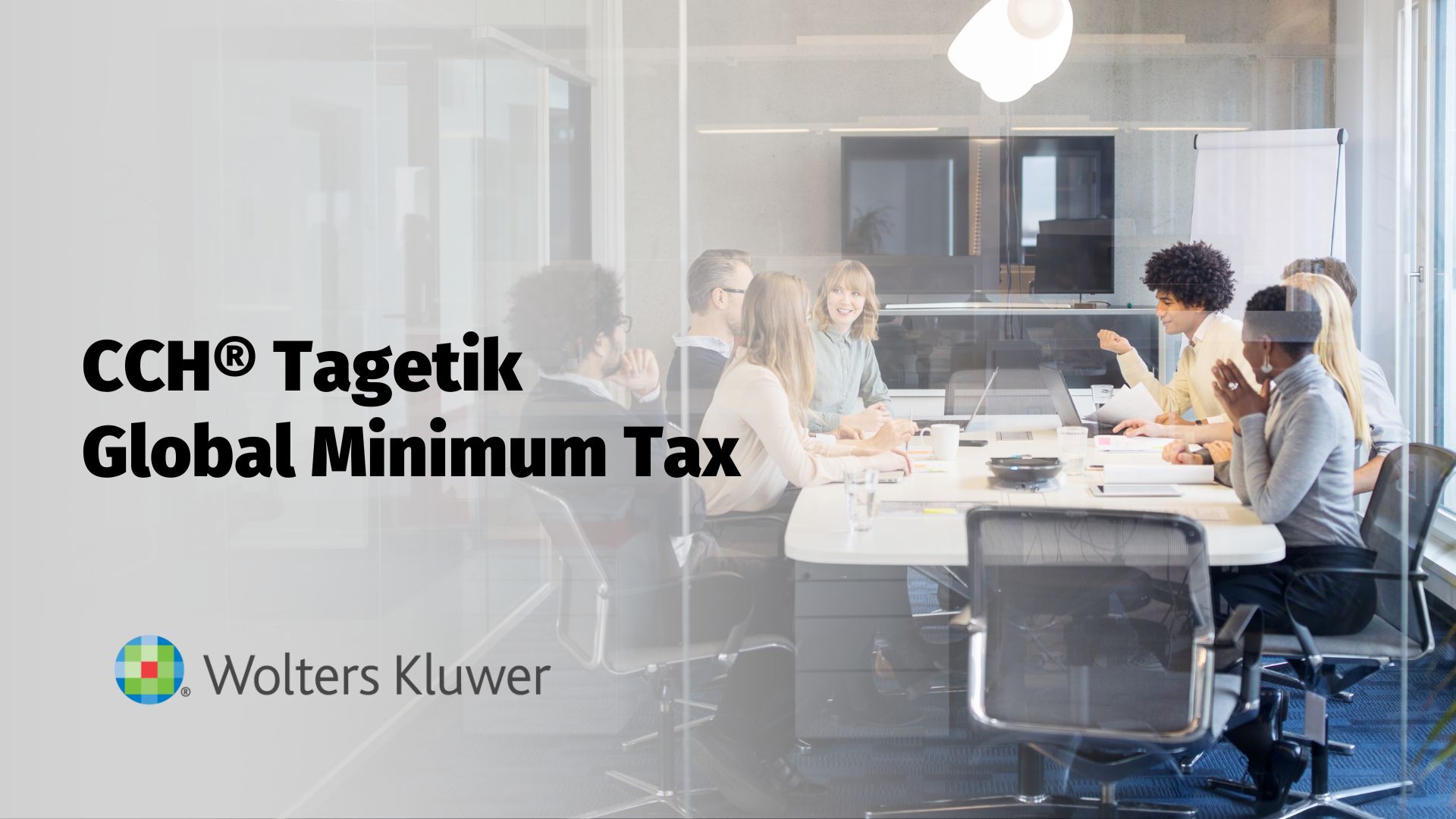 Free teams from the burden of reporting requirements
Pillar Two obligations will strain tax teams that rely on isolated tax systems. Our top-down approach to BEPS Pillar Two connects tax to consolidation, centralizing enterprise data and automating calculations to facilitate reporting activities.
Automatically collect, aggregate, and store data
Easily map Pillar Two calculation objects
Align tax and finance teams and accelerate financial close
Automatically calculate top-up tax
Allocate tax amounts to impacted entities
Use tax insights to guide business strategy
BEPS Pillar Two means more than a tax system upgrade. It involves modifying internal processes to accurately reflect your tax position in financial statements. CCH Tagetik equips you with the planning intelligence to simulate tax impacts — and adjust plans accordingly.
Report Pillar Two data

Enhance collaboration with back & forth posting

Be audit ready with a log of past versions and processes

Configure workflows, responsibilities, and deadlines

Test cash, ETR, and SF scenarios with simulations

FSN webinar - CFOs: Are you prepared for a global minimum tax regime?
Learn from our industry leaders how to reduce the impact caused by Pillar Two requirements on your organization.
Watch Now
Explore related solutions
Financial Reporting
CCH Tagetik Financial Reporting software brings your company's story to life.


Financial Close & Consolidation
Manage your financial close and consolidation with CCH Tagetik's software from local close to group consolidation to regulatory reporting and disclosure.

Account Reconciliation & Transaction Matching
Reconcile balance sheet, income statement, and other complex accounts automatically.
iXBRL
Tag smarter. Manage better. File faster. iXBRL filings using leading-edge machine learning technology.