Women in secured finance 2022: Leading the way forward
As published in The Secured Lender magazine
April 2022 issue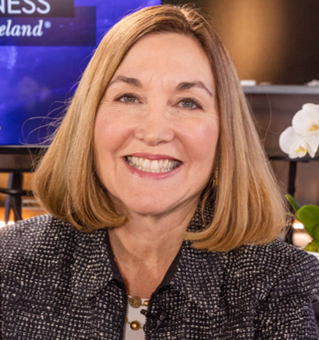 Suzanne Konstance serves as Vice President and Leader of the Lien Solutions segment at Wolters Kluwer Compliance Solutions. Her background includes financial services, general management, product management and marketing. She and her team focus on understanding and solving client problems to provide innovative, effective secured lending solutions. She has led teams to create new best in class products and services which greatly improve lien management, including UCC, real property and motor vehicle liens.
Her achievements have been recognized by industry peers, including earning a 2021 Businesswomen of the Year Award from CEO Today magazine; 2021 FinTech Senior Leader of the Year by Wealth & Finance International magazine; a Women in Finance Award in 2020 by Finance Monthly; and Female Entrepreneur of the Year, Business Products, Women in Business 2020 Stevie Awards. Konstance is the executive sponsor and a founder of a divisional Women's Initiative Network to promote female career development at her company.
Prior to joining Wolters Kluwer, Konstance held senior-level positions for companies such as Citibank, Pitney Bowes and MetLife. Konstance earned a bachelor's degree from Cornell University and a master's in business administration from Northwestern University's Kellogg School of Management. She can be reached at [email protected]
1. What advice would you offer to women just starting out in the industry?
I would recommend that for anyone starting out in any industry, begin by understanding what you enjoy doing and are good at and what you want out of your career. Then attempt to move into a role that fits your interests and needs. Secondly, be curious. Read up about the industry. Talk to people, especially clients if you have the opportunity. Finally - question everything! When you first start in an industry, often you focus on what you don't know, but realize you have a gift - you will see things as an outsider that can help you identify ways to improve things.
2. Studies have shown women are more reluctant to tout their accomplishments in the workplace. What advice would you give to help women be more comfortable with speaking up?
This subject often comes up when I host speaker panels for the Women's Initiative Network I sponsor at work. Some key things to do – document the facts. Keep a list of accomplishments and results you have spearheaded as well as any challenges you have overcome to achieve the results. Make sure you document not just your hard work, but the outcome and results. Practice mentioning these items when talking to your manager as well as his/her peers. If uncomfortable doing this, find someone you trust who can help you practice. Put the accomplishments in writing at performance review time as well.
3. What do you know now that you wish you knew in the beginning of your career?
I wish I knew that spending the time to cultivate relationships at work can be as important as delivering excellent results. Building honest, strong relationships with employees, peers and managers is critical. Having your colleagues be real teammates who want to succeed together can help make extraordinary achievements happen. Also, make an effort to get to know the decision-makers in your organization so that they understand your accomplishments and aspirations.
4. What do you enjoy most about your role? Least?
I am most excited when I am part of driving an innovation that solves client problems and working with a great team. Although rare, I dislike all-day video meetings!
5. Any secrets to balancing your work/personal time?
This issue comes up for both men and women at work. I have managed men who ask for some accommodation to pick up their kids at school or attend a PTA meeting, for example. A couple of thoughts – be honest with yourself about what you care about and tradeoffs you are and are not willing to make between your work and your personal life. Keep an open dialogue with your manager to determine if and how you can accommodate the things that are most important to you. As table stakes, make sure you are delivering results – if you are performing well in your job, there often can be more opportunity for flexibility.
6. How can commercial finance organizations attract and retain more women?
If you are serious about it, make it a goal to attract and retain more women! Setting a goal is the start. Encourage diversity during the recruiting process. Pay equitably. Provide support and mentoring for employees and open up channels to get feedback on how you are doing. Personally, I think if we look at our employee relationships as long-term—and have meaningful, honest career and work/life balance conversations with employees—it goes a long way toward retaining them.
solution
Complete confidence in lending