"Anatomical art has the power to reach far beyond the pages of a medical textbook, to ignite an excitement in the public, and reinvigorate an enthusiasm in the medical world, ultimately connecting our innermost selves with our bodies through art."
This is how Vanessa Ruiz closed her 2015 TEDMED talk on human anatomy in art. That same year she joined the product team working on Emmi® programs, where she helps create experiences that inspire a deeper understanding of our bodies and our health. She's now on the TEDMED editorial advisory board, which convenes twice a year to review speaker nominations for the flagship event, now coming up next week in Palm Springs, California. She gave us a look inside their discussions and into what's next for designing powerful patient experiences.
What's involved with being on the TEDMED editorial advisory board, and what's your favorite part?
The advisory board meets twice a year, once to decide the top topics in health and medicine for the year and once to nominate speakers that fit into those topics. These are some of the most stimulating conversations and debates I've ever had the pleasure of participating in. Every topic, from the gut microbiome, to personalized medicine, to climate change and beyond are all discussed and weighed against each other. It's really hard to choose not to talk about something, they're all important!
Every person on the board brings their expertise and connections throughout the healthcare space to the table, whether they're a clinician, a researcher, a humanitarian, a journalist or an artist like myself. So finding artists that blend medicine and art, that impact and help people or lead to some innovation, is one of the most exciting aspects of being on this board.
There are hundreds and hundreds of nominations we go through for only about 45 speaking spots. This year, five of the seven artists I nominated made it to the top nomination list. And one of those artists made it into the stage program. She creates these stunning and emotionally driven pieces of art using a surprising source for raw material: MRIs and CT scans.
What I truly appreciate about TEDMED is their commitment to finding a diverse group of speakers who haven't been on the world stage before. We look for people with a passion for what they're doing, for people with their heads down, working in labs or in the community, not necessarily in the limelight.
What started your passion for medical illustrations and visualization?
I've always been interested in art and in science. But it wasn't until college that my advisor recognized this passion and asked me, "Have you ever thought about the people that draw the illustrations in medical textbooks?"—I hadn't! And from there I learned about and went into the field of medical illustration. It's the perfect intersection of art and science.
In your TEDMED talk you mentioned the artistic history of anatomy. How does that influence patient education today?
There's a very rich and colorful history of educating the public (and therefore patients) about their anatomy and health. From the way artists in the Renaissance represented dissected cadavers as alive and showing off their insides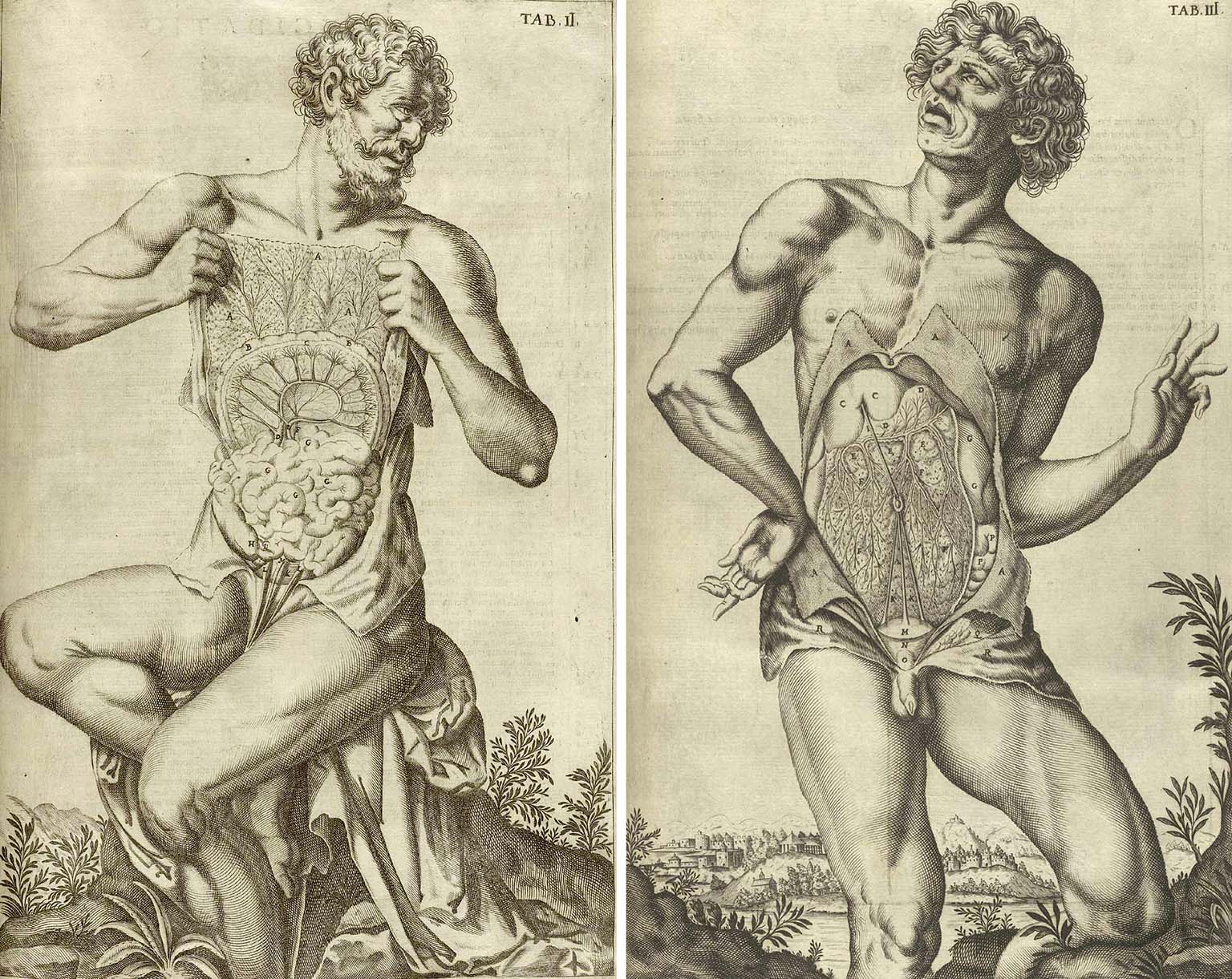 Giulio Casserio, De humani corporis fabrica libri decem, 1627
Historical Anatomies on the Web (https://www.nlm.nih.gov/exhibition/historicalanatomies/home.html) – U.S. National Library of Medicine
– to the way the body was represented as an industrial machine in the early 20th century.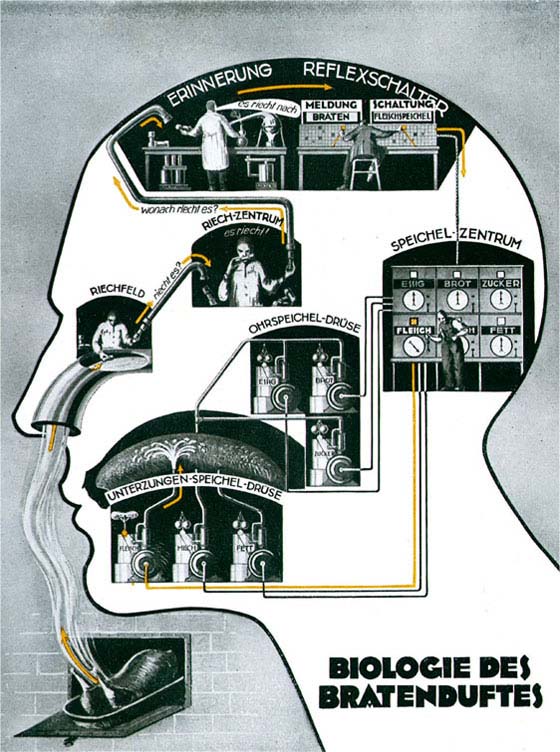 "The biology of smelling a roast" Kosmos Verlag and Fritz Kahn, 1926
http://www.fritz-kahn.com/gallery/the-biology-of-smelling-a-roast/
The representation of anatomy and health tended to follow the cultural norms of the time and was highly influenced by artists.
Today in medicine we have a very sterile, optimized ideal of anatomy that you see in medical textbooks, charts, and online resources. And that's great for optimizing the learning experience of medical professionals. The general public, however, tends to think that anatomy and the language used to describe it is this mysterious thing that belongs to the medical world. But really, anatomy is a subject that begs to be visualized and communicated to patients in an artistic way that ignites curiosity and fosters understanding. This is actually happening right now in the world of art. Artists are breaking anatomy out of the confines of the medical world and visualizing it in new and exciting ways for the public.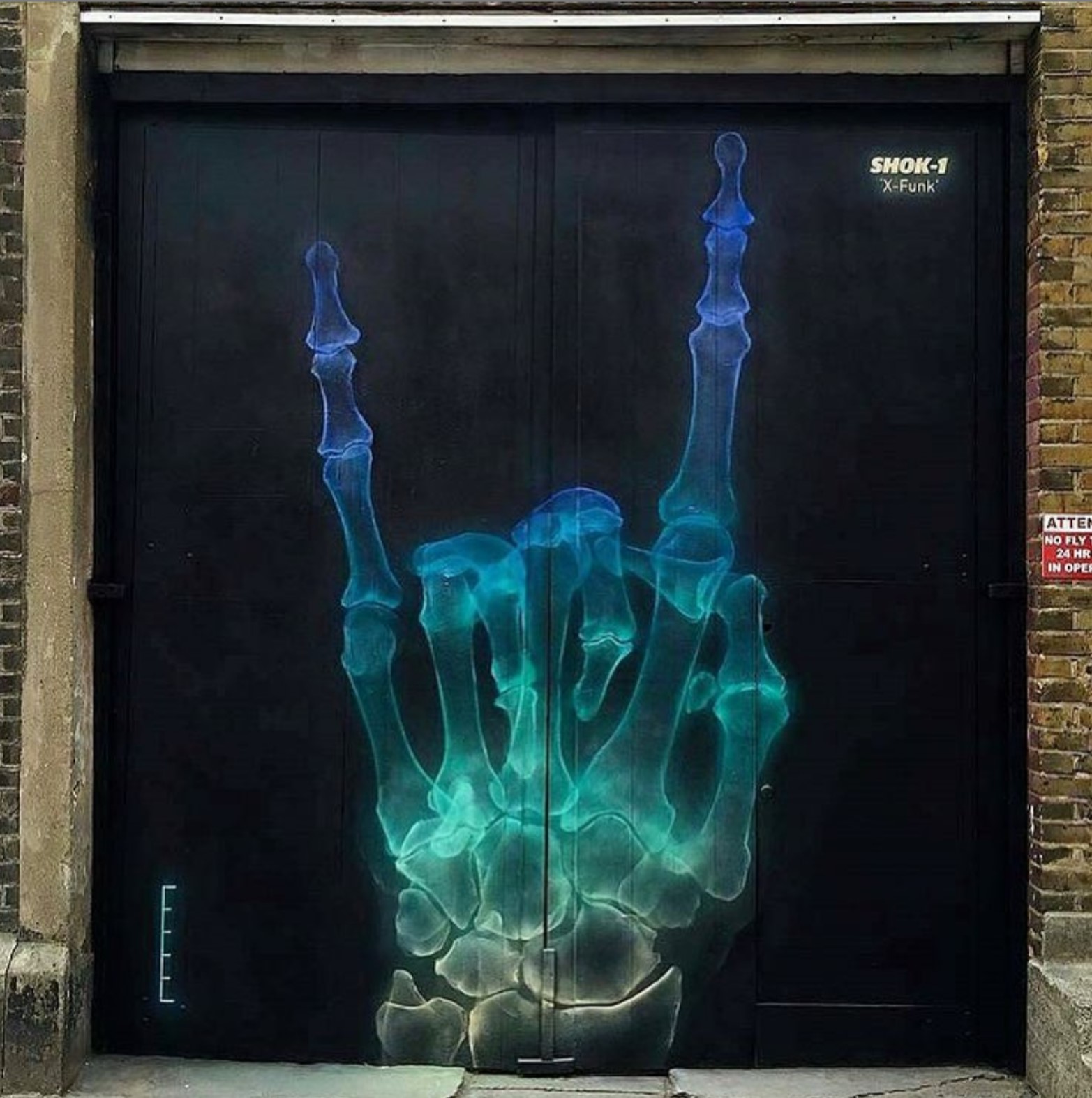 SHOK-1 X-Funk, London, 2015
©SHOK-1 https://www.instagram.com/shok_1/?hl=en
Nychos Anatomy of Spiderman, Atlanta, 2017
©Nychos https://www.instagram.com/nychos/?hl=en
Harnessing this type of artistry and using it to optimize the learning experience of patients is what inspires our creative team at Emmi.
What's involved in creating inspiring and informative visual experiences for patients?
Designing an experience that supports engagement in healthcare really involves the thoughtful choreography of science, art, and technology.
We have a unique creative team in the healthcare space in that we have content writers, artists, animators, medical illustrators, and UX designers all collaborating to make experiences that motivate patients to take an active role in their health. And this is different than simply delivering information to patients. Our goals can include anything from helping patients make a major health decision, motivating them to make long-term behavior change, or simply changing the way they feel about their health.
And that's why our program development methodology is outcomes driven, based on medical and behavioral science, and why we focus on a conversational Emmi personality. Our visual style ranges from using medical illustration to the artistry of concepts, visual metaphor and simile to help patients understand complex information.
Emmi program illustrations showing the heart, visually relating an aneurysm to a leak in a garden hose, and showing waste leaving the kidney.©2018 Emmi Solutions, LLC
What speaker are you looking forward to seeing this year at TEDMED?
One of the speakers that I'm truly excited to see is David Asch who focuses on behavioral economics and clinician and patient decision making.
"I firmly believe that what is required to make substantial changes in population health will be some combination of this design understanding of human behavior plus technology to create sustainable behavior change." –David Asch
What recent visualization work has challenged your creative spine?
Data visualization! We have a very robust reporting platform here at Emmi where we track how patients are engaging with our programs. Those outcomes are then reported back to clients regularly. The challenge has been finding ways to tell a visual story with that data. In my perspective though, the approach to this is quite simple—take the same design principles we apply to patient engagement to telling a visual story with data for our clients.
What are your top 3 TEDMED talks that everyone should watch?
My current favorites are:
Soka Moses – For survivors of Ebola, the crisis isn't over
Here's a man who, just two years after graduating from medical school, was thrust into the 2014 Ebola outbreak in Liberia. They had limited resources, and because of that, Soka saw many deaths. And those who did survive faced ongoing health issues and stigmatization from their community. I always think that any resource can help in this situation. I wonder if he had access to UpToDate® to help him through as a new doctor.
Frans de Waal – The surprising science of alpha males
This is an important talk to watch right now as Frans speaks to the parallels between primate and human behavior, specifically the term "alpha male" and what that really means in the primate world. You'll definitely laugh during this one!
Meg Gaines – Why partnership is at the core of effective healthcare
Meg's talk hits home with her focus on empowering patients to take an active role in their healthcare. A lot of the speakers on the TEDMED or TED stage got there from an idea that sprung from a very personal experience, something life-changing. Meg's came from being a cancer survivor and a lawyer who now helps patients navigate their care.
Blog post photo credit: Vanessa Ruiz speaking at TEDMED 2015
©2015 Sandy Huffaker for TEDMED (http://www.tedmed.com)