The 10 key phases of a merger and acquisition deal
Mergers and acquisitions are a part of the business lifecycle, providing opportunities for growth and diversification.
It's a dynamic space. M&A activity can rise and fall from year to year. The structures of the transactions and the reasons they are entered into can change as well. But one thing stays the same — the completion of a merger can involve a staggering number of details, especially if the deal has an international component.
The entire M&A process requires precise timing. If a compliance or transactional detail falls through the cracks, your organization can face delays, penalties, and other issues. To help mitigate these risks and develop a solid merger plan, this article explores the various phases of the deal from due diligence work to deal closure.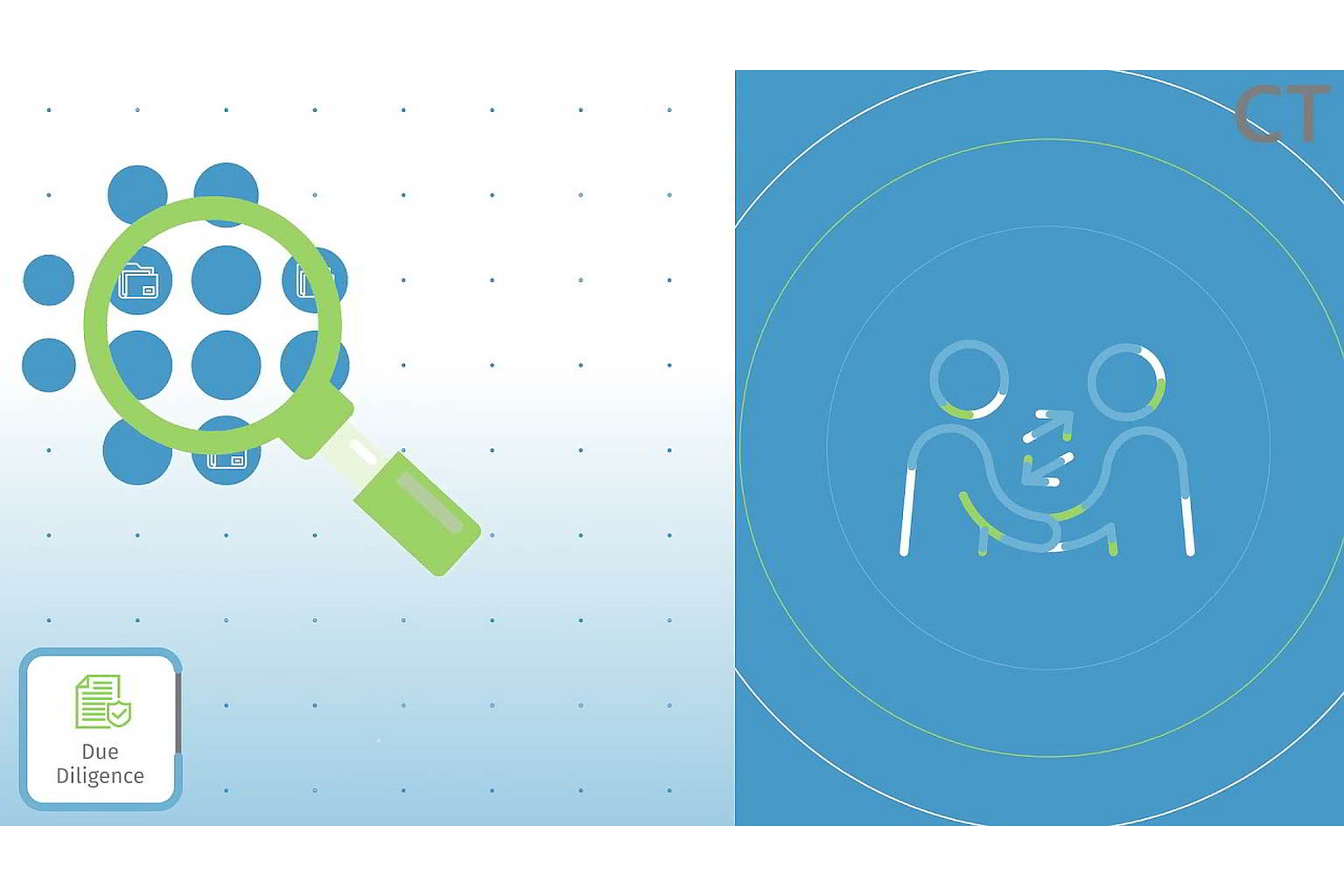 1. Strategy development
An M&A strategy can help set clear expectations for all involved. While each deal is unique, any strategy should address what your company hopes to achieve with the deal and how it will get there. Consider the following:
What's the purpose of the transaction?
How will the company acquire financing for the transaction?
What does the end operating model look like?
Which entities are involved? (Knowing who and what is involved and how the pieces are related will help guide the due diligence process).
2. Target identification
During this phase, legal teams must search and evaluate potential target companies. Knowing who and what is involved and how the pieces are related will help guide the due diligence process. This can be broken down into the following steps:
a) Determine the constituents. If you are looking at a general merger, you will want to identify the target. In a triangular merger, both the target and the subsidiary must be identified.
b) Identify any subsidiary or related entities. You'll need to know what they are, what industries they work in, and where they're located. Also important is whether they are qualified to do business in other states and countries.
3. Valuation analysis
To properly value and determine the suitability of the target company in line with the M&A strategic plan, legal teams need access to as much information as possible regarding the target's operations, customers, financials, products, and more.
Once the entities are known, the next step is to find out if they are in good standing and in compliance with all jurisdiction requirements. If not, it could be a deal breaker. Assess whether the issue(s) can be resolved and the time frame for moving forward.
CT Tip: CT can help with the valuation analysis to confirm all entities are known and in good standing.
4. Negotiations
Once valuation models of the target company have been produced, your firm can present an offer and move onto the negotiation phase where terms are discussed in more detail.
Beyond borders.
From beginning to end.
We'll help you with all your merger and acquisition needs by providing a knowledgeable Relationship Manager who is accessible around the clock.
We have offices and expertise around the globe. No matter where your business takes you, we'll make sure your needs are being met, accurately and on time.
5. Conduct due diligence
This is usually the most time-consuming and critical part of any M&A transaction. M&A due diligence requires a detailed examination and analysis of the target company from both internal and external sources. This helps verify the target's value and identifies liabilities.
Due diligence tasks in M&A include:
Searches: UCCs, fixture filings, federal/state tax liens, litigation (local and federal), judgment liens, bankruptcy, IP searches, etc.
Document ordering: Charter documents (all documents on file versus restated forward), records of good standings (long and short form), "bring-down" letters (verbal status checks), credit reports, and more.
Filings: Formation of shell/holding companies, potential qualification of an entity in multiple jurisdictions after incorporated.
CT Tip: As negotiations progress, CT conducts due diligence to verify value, identify liabilities, and complete all searches – working closely with both buyer and lender counsel.
6. Deal closure
With due diligence complete, parties make the final decisions on moving forward to execute the transaction. For legal teams, this comes with several responsibilities. Corporate or pre-clearance filings must be made in advance of the closing date. These include merger filings, amendments, ordering of good standings, or issuance of bring-down letters.
Payment of filing of annual franchise taxes may also be required for an entity to properly merge.
CT Tip: Once a merger is agreed to, CT can help with actions needed before filing merger documents including reserving a name, reinstating an entity, forming an acquisition subsidiary, obtaining supporting documents, and more.
7. Financing and restructuring
Although financing options were explored during the M&A planning process, the final details typically come together once the purchase and sale agreement are complete.
To help you avoid delays and ultimately close the deal, an independent director/manager, springing member, or special member may be appointed. These directors serve on the boards of your entities to safeguard your assets.
During this phase, you must also file UCC1 and UCC3 forms and conduct post-closing searches to ensure proper indexing of the filed UCCs.
8. Integration and back-office planning
Managing the integration of an acquired company is a full-time job and should be treated as such. Both parties should work together to ensure a seamless integration. For legal teams this means entity planning and compliance work in the localities involved. Tasks include the following:
Entity set up, consolidations, and/or local entity management
Governance structure changes
UBO registrations, KYC compliance
Annual filings
Registered agent/address services
Legal representation/directorship services where required
And more
To meet the requirements of a transaction, a trusted agent is needed to receive service of process and other legal documents internationally.
If your team doesn't have the expertise or the bandwidth for post-merger tasks, leverage the expertise of external resources to help get the job done.
Mergers are increasingly complex. CT Corporation has extensive expertise managing M&A from beginning to end.


We provide end-to-end project management with a single, accountable specialist who can partner with you from start to close of a deal.
9. Post-merger compliance
Post-merger integration is often overlooked but is a critical task to reaching a "business as usual" goal and is a determining factor in the success or failure of any deal.
After the long cycle of completing a merger, there is still so much to do. Often, the compliance requirements associated with the surviving and non-surviving entities are the last items to make the list – if at all. In fact, most companies aren't aware of what's needed beyond receipt of evidence of the merger. Unfortunately, post-merger compliance is a critical and complex series of activities, and not completing the steps poses significant short and long-term risks.
CT Tip: The work doesn't end there. We can qualify your company in new jurisdictions and withdraw it where it will no longer be doing business. We can research and update business licenses and permits, tax registrations, and assumed name registrations.
10. Business as usual
Once the merger is complete, it's important to continuously monitor the success of the newly established entity with ongoing good standing and health checks to ensure there are no compliance issues.
Conclusion
The process of completing a merger can be cumbersome. With so many steps to take before, during, and after the merger and tricky timing issues every step of the way, it's important to have the right support.
Whether at the beginning stages of due diligence, or the high-pressure stages of closing, CT Corporation provides the assistance that private equity firms and M&A attorneys count on to finalize the deal. Count on one-stop-shop seamless support across local and international jurisdictions. Our end-to-end project management services are provided through accountable specialists who partner with you every step of the way. Whatever size your enterprise or line of business, CT has the global resources you need to meet your critical M&A compliance needs.
Expert Insights
Stay informed
Subscribe to CT Corporation's newsletters for business compliance updates and legislative news.