Three ways to use videos as part of your marketing strategy
Here are three ways you can use videos to give your marketing campaigns a much-needed boost and more effectively reach your target audiences.
The healthcare industry is complicated by nature, made up of sophisticated devices and pharma products that need in-depth explanation of usage, features, and patient care. This had led to the value of video marketing, enabling detailed information to be communicated effectively to healthcare buyers in hopes of increasing the chance of a purchase. A recent study has shown that 66% of physicians view videos to keep up-to-date on clinical information. They also spend an average of 11 hours per week on their own professional training and advancement.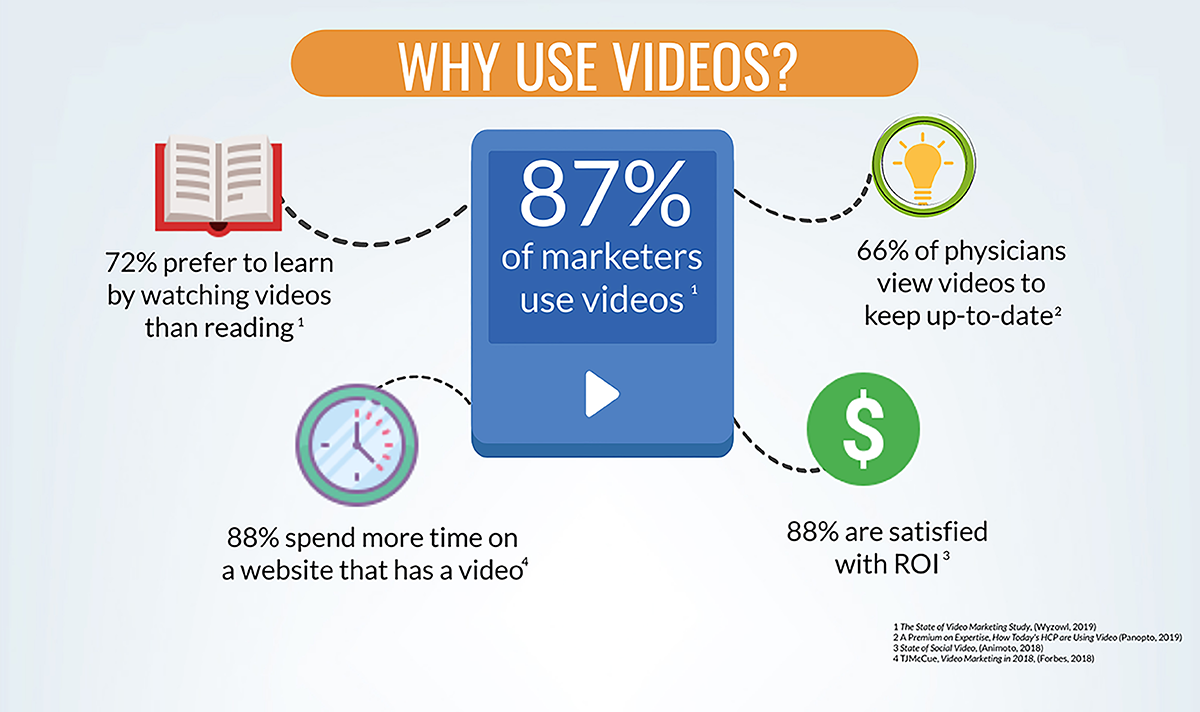 Here are three ways you can utilize videos in your marketing strategies.
Explainer videos
Explainer videos allow you to present complicated information to healthcare purchasers with visuals and in-depth description of products and services. Most purchasers will watch videos to compare products before they buy. They want to see how devices work, the ease of use, and services offered. It can even include a short case study to further prove its effectiveness.
An explainer video also offers clarification on frequently asked questions. Information can be included to explain parts of the procedure, equipment, or pharma products that can overcome any apprehension that may prevent a purchase. Patient testimonials can also serve as validation for the effectiveness of a device or medication. Eliminating any concerns and doubts will increase the chances of making a purchase decision.
The following are some types explainer videos you can produce:
Promotional – Highlights the company
Educational – Explains the device or medication, procedure, and patient care
Pre or post-treatment – Illustrates preparation before and after the procedure
Procedural – Demonstrates the process in surgery
Q&A – Physicians answer popular questions
Hosting webinars
In a digital world, webinars are essential for healthcare marketers to offer sales support and efficient delivery of information. Hosting webinars breaks down the communication barriers and opens a dialogue between supplier and purchaser. Webinars can consist of online workshops or product demos set at a certain time.
The following are some benefits to hosting webinars:
Identify your audience – A dashboard can show you who is watching the video and their level of engagement. A Q&A at the end of the webinar will reveal what information is important to them.
Reach a worldwide audience – The beauty of webinars is that anyone across the globe can participate. With the internet accessible on computers, tablets and mobile devices, there is even greater reach. It can also allow you to reach untapped markets, opening doors to entry into those markets.
Educate them – Involving KOLs and other industry leaders offer greater validity to the content as well as your brand. This can help increase customer retention and highlight your company as an expert in the field. A Nielson report found that 84% of people trust word of mouth from their peers.
Cost effective – The cost of hosting a webinar is much more affordable than a face-to-face meeting to each audience.
Greater viewership – Webinars that are recorded can be viewed at a later date and on demand that may be more convenient for the audience. Providing a link to the video allows for a greater chance to be viewed. Also, the videos can be viewed more than once and shared with others.
Lead generation tool – Webinars are a great source for lead generation. Emails gathered can be used for future email campaigns.
Live streaming
The practice of live streaming videos has gained momentum within the past few years. A study showed that 82% of viewers prefer live streaming over social media posts and 80% prefer it over blogs. Live streaming allows for a more intimate communication platform, which is difficult to achieve in a healthcare B2B vertical. A live streaming video combines the natural appeal of engaging videos with the personalized live interaction that humans seek. It also allows you to stream to a large online audience worldwide.
One benefit of live streaming is that it not only allows for a greater insight to what your medical devices or pharma products do but what your company's philosophy is overall. Creating an authentic voice that resonates what your brand stands for is key to creating a deeper dialogue. This enhances brand recognition and leads to loyal customers.
Another benefit is of live streaming is that is allows for richer content that people desire but is difficult to deliver within the time constraints of purchasers. You can highlight the great people behind the brand and make them feel reachable. There is a feeling of a genuine conversation that is tangible and informative.
There are various ways you can leverage live streaming videos other than product demos. Examples include showcasing new products, offering behind the scenes at a conference, and sharing presentations made to their peers.
Once you have created a library of videos for your portfolio whether it be for explainer, hosting or live streaming videos, consider repurposing them. Other than posting them on your website as a resource, schedule them in your social media posts to support your marketing strategy. Take it a step further and use videos in your advertising campaigns. Create blog posts that highlight key points in video. This will reemphasize your core competencies and allow these videos to be watched and shared over and over again.
In summary, the benefits of videos used in your marketing strategies are numerous.
Increased conversion rates
SEO is improved, as 70% of top search results are videos
Platform is easy to share, allowing you to reach a larger audience
Engage audience for a longer period of time
Videos are used by 87% of marketing professionals. Are you one of them?
Contact us today to implement video advertising in your marketing campaigns.
Lippincott Audience Solutions
Engage your target audience with Lippincott's highly trusted award-winning content to get your messaging where healthcare professionals are most receptive.