Although the impact of the pandemic is now largely behind us, digital lending solutions will continue to play a major role in our recovery. And despite increasing interest rates and decreasing mortgage volumes, digital lending remains a high priority among lenders.
Added to that is a drop in mortgage refinancing and homeowners enjoying high home equity gains, making it an opportune time for lenders to focus on home equity lending. Successful lenders are using this market slowdown to positively impact and further differentiate their customer experience by continuing to invest in technology and pivot into other product areas, both within first mortgages and home equity lines of credit (HELOCs).
Wolters Kluwer Compliance solutions hosted a webinar "Trends, Best Practices, and Technology for eMortgages, HELOCs, and Other Digital Assets" focused on this topic featuring a panel of experts: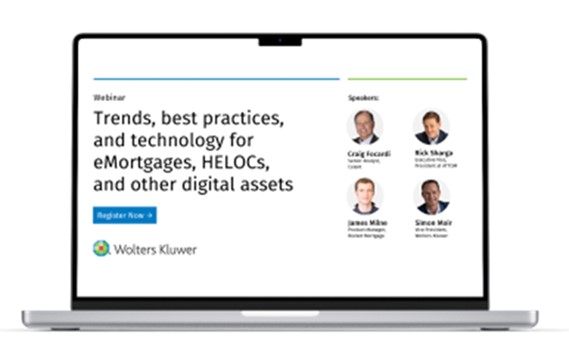 Simon Moir, Vice President, Banking Compliance Solutions for Wolters Kluwer served as the moderator in this panel discussion.
Craig Focardi, Senior Analyst, Banking for Celent, a leading research and advisory firm focused on technology for financial institutions globally.
Rick Sharga, Executive Vice President, ATTOM, a leading provider of comprehensive real estate data for companies in the real estate, mortgage, insurance, finance and government markets.
James Milne, Product Manager for Rocket Mortgage, an early adopter of digital asset transactions and the nation's first lender to use eNotes in closing a Ginnie Mae-backed loan.
Focus on technology-enabled growth
According to Celent, a leading research and advisory firm, financial institutions of all sizes report strongly expanding technology budgets. In its most recent North American IT Spending and Digital Priorities survey, 63 percent of the respondents stated that investing in the digital lending experience was the top priority in 2022.
The survey also indicates that budgets will increase by a more significant amount in 2023 "to reflect the growing appetite for technology-enabled growth." While IT spending can be cyclical, especially when volume and profits are down, technology investments as a percentage of origination expenses have more than doubled in the past decade.
That said, who is driving digitization in mortgage lending? Both the production and capital markets parts of an organization have a key role in driving adoption and should work together to deliver value. The production side of the business has the first role in terms of systems development and operational and process changes, leading to incremental operational benefits and an uptick in customer satisfaction – both critical to get this process moving. Mortgage lenders also see benefits on the backside with the potential increase in value of the eNotes that they are selling into the secondary market, which is why capital markets should be equally involved in driving these initiatives within an organization.
Benefits of originating digital HELOCs
According to ATTOM, a leading provider of comprehensive real estate data, mortgage originations had the largest annual drop in Q1 2022 since 2014. And the Q2 2022 results are even more dramatic, down 14 percent from Q1 2022 and 41 percent from a year ago. Additionally, the Mortgage Bankers Association's forecast expects the number of refinance loans to drop from approximately 6,400 last year to around 2,100 in 2022, which translates into a two-thirds decline in lending volume on the refinancing side because of rising interest rates. Conversely, ATTOM reports that HELOCs are up nearly 28 percent year-over-year – or about $50 billion in home equity lines of credit – during Q1 of 2022.
So, while it might be more difficult to refinance your first mortgage, double digit home value appreciation over the last two years has resulted in homeowners across the country gaining new wealth through home equity. The Wall Street Journal reports that homeowners are currently sitting on a record amount of home equity – about $27.8 trillion in the U.S. And ATTOM says that over 50 percent of homeowners with active mortgages now have at least 50 percent equity in their homes. There are two reasons for this increase in home equity. First, Baby Boomers are aging in place and not selling their homes as they often did in prior years. Second, many homeowners are now in what economists call "rate lock." This means homeowners have a 30-year fixed-rate loan with a low-interest rate and don't want to jump into a new loan with a much higher interest rate.
Mortgage lenders are in the business of lending, and with the explosive growth of HELOCs, this is an area where we expect to see more lenders participate. Banks and credit unions are stepping up their efforts to grow their home equity businesses now that interest rate increases have made cash-out refinancing less attractive to millions of borrowers.
Digital lending solutions, such as Wolters Kluwer's OmniVault for Real Estate Finance, enable financial institutions to originate digital HELOCs as a Digital Original rather than merely a PDF or paper document. Like eNotes, digital HELOCs can be stored, managed, and easily transferred in and out of an eVault on a single platform, providing the same user experience and visibility across all asset classes. And there is increasing recognition of the benefits that digital lending solutions can bring to the mortgage space as lenders leverage the concepts of digital HELOCs, eMortgages, and OmniVault technology, which can help them secure and manage their eAssets on a single platform.
Are you an early adopter or a follower?
Banks, credit unions, and, to some extent, mortgage banks are shifting their focus to home equity lending. While most HELOCs are held on balance sheets, there are early signs that a secondary market is developing for these products. If it comes to fruition, the ability to offer digital HELOCs will become a must-have in the race for lenders to differentiate their customer experience and stay competitive. Digital HELOCs allow customers to access their equity with a speed and ease not currently available with standard HELOC products offered by lenders. And financial institutions that don't adapt to this market preference for digital HELOCs risk missing out on an opportunity for growth in a challenging lending environment.
For additional insight into effective digital lending programs, watch our on-demand webinar, "Trends, Best Practices, and Technology for eMortgages, HELOCs, and Other Digital Assets" and review Wolters Kluwer digital mortgage solutions including the OmniVault for Real Estate Finance solution.