Digital transformation and IT leaders from a variety of industries recognize the value of digitalizing Control of Work (CoW) on the frontlines of the production plant.
CoW is the systems and processes used to ensure worker hazards are identified and necessary controls and procedures are put in place to mitigate the likelihood and severity of incidents.
In Summer 2021, Enablon, a Wolters Kluwer business, commissioned independent research firm Verdantix to survey 100 executives across IT & digital transformation, operations, engineering and EHS around the adoption of CoW processes and software within their organizations. The respondents in the survey covered four geographic regions: North America, APAC, EU and the Middle East, and represented industries from three different EHS-risk levels: very high EHS risk (oil & gas, chemicals, mining), high EHS risk (construction, utilities) and medium EHS risk (food & beverage, discrete manufacturing and data centers).
Of notable interest are the perspectives of the IT and digital transformation executives over CoW software, across all these industries. Of the 100 executives surveyed, 20 executives came from the IT and digital transformation functions.
Key takeaways:
Digital transformation and IT leaders report a preference for deploying CoW software in the public cloud
Obtaining budget to purchase CoW software is mainly restrained by a lack of awareness of CoW solution providers
Digitalizing CoW processes is a top priority, with the majority of digital transformation and IT respondents reporting CoW software pilots already underway
Public Cloud Is the Preferred CoW Software Deployment
The choice to digitalize frontline processes is linked to a greater acceptance of SaaS and public cloud-hosted solutions. Seventy-five percent of the IT and digital transformation executives surveyed reported the public cloud as the preferred deployment method for CoW software.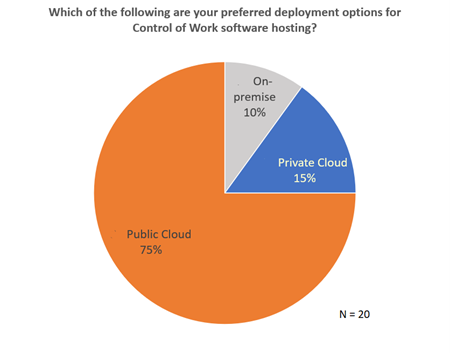 Lack of Vendor Awareness Ranks Highest in Challenges to Obtaining Budget
The data shows while IT and digital transformation leaders are actively seeking novel CoW software in which to invest, an overwhelming 70% are unaware of CoW solution providers.

Two other factors: inadequate IT infrastructure and difficulties in making the business case to the rest of the budget holders ranked next on the list of reasons for which CoW software investments get blocked.
CoW Digitalization Pilots Are Already Underway
Half of the IT and digital transformation respondents (50%) reported CoW software pilot projects as already being underway. Digitalizing Control of Work was at the top of the respondents' organizational IT agendas.
With the growing number of solution providers and lower technology hurdles to deploy, the survey data reflects overall trends in industrial organizations moving to Industry 4.0 frameworks.
Industrial organizations are at an inflection point with Control of Work. While CoW software has been accepted as a standard across the process industries, more organizations from other industries are following suit, transforming their frontline processes along the way.
Read the views of the other 80 survey respondents, coming from the EHS, engineering and operations functions, here: Control Of Work Software Enables EHS And Operations Collaboration For Real-Time Risk Management.