Recent enhancements to our Welfare Plan Documents package provide additional features to our Cafeteria and POP Plan Documents. This includes extensive new options and a new Individually Designed Plan (IDP) formatted version of the Cafeteria Plan, allowing for a high level of customization for your plan document.
The Welfare Plan Documents package helps you streamline your entire plan document preparation process while ensuring compliance with all DOL, ERISA and ACA regulations. In addition to a full suite of procedures, forms and notices, our Welfare Plan Documents package includes the following documents:
Cafeteria Plan — Basic Plan Document, Adoption Agreement or IDF (Individually Designed Format)
Premium Only Plan (POP) — Basic Plan Document and Adoption Agreement
WRAP Plan Document
Health Reimbursement Arrangement — Basic Plan Document and Adoption Agreement

Integrated HRA
Limited Scope HRA
Former Employees HRA
QSEHRA

Transit Plan
ACA policy
With options to link welfare plans to WRAP document, batch generation of amendments, and extensive error checking, you will be able to minimize your data entry and save time as you generate documents for your clients.
We also offer add-on tools, such as ftwPortal Pro and ftwPro Amend to further increase your efficiency when working in the Welfare Plan Document module.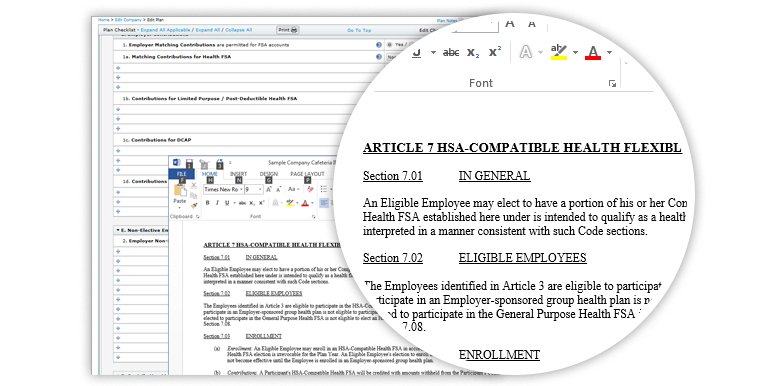 Software Highlights
Integration. Our Plan Documents modules are integrated with the other ftwilliam.com modules to ensure effortless data flow.
Easy to use forms and amendments. Most of the forms and amendments can easily be generated using either the Batch Print or Group Print features. The Batch Print feature permits you to print certain amendments for all of your clients in a few easy steps.
E-signatures available with purchase of ftwPortal Pro. E-sign any document using our software.
Streamlined data import and export. The exclusive ftwLink feature provides an XML based interface for interfacing with your plan information. Using ftwLink you can add and edit plan information, extract checklist answers, and generate plan documents using a single, easy to use XML interface.
Free updates. All document updates and amendments are provided at no extra cost.
Extensive online error correction. While we cannot guarantee that each combination of checklist responses will result in the plan that meets the qualification requirements of the Internal Revenue Code and ERISA, our online error correction will identify all required responses and will highlight most conflicting responses.
Streamlined data entry. When entering data, items for which no entry is required will appear shaded and will not allow data entry. For example, if matching contributions are not allowed in a 401(k) plan, all questions dealing with matching contributions will be shaded.
55AutoFill technology. With 55AutoFill, completion of plan document checklists is made easy by automatically downloading all of the available information from the most recently completed 5500 forms.
Custom language. Since the documents are delivered in .rtf format, you may perform extensive customization of each document.
Unlimited checklist templates. Using the "Clone Me" feature you may establish an unlimited number of custom default checklists.
Export plan specifications. With this unique, powerful feature customers are given the ability to download all of their plan specifications with the click of a button in Excel-compatible format.
Help. Nearly every checklist question provides instant context-sensitive help.
Our welfare plan documents are available both via subscription and per-plan pricing options. Discuss with your ftwilliam.com sales consultant which might be the best option for you.
FAQ About Converting to ftwilliam.com
Supporting Documents:
1. Summary Plan Description
2. Other Documents/Forms (All custom generated based on checklist answers)
Consent actions
Amendments
Participant forms/procedures/notices
Highlights
Summary of Benefits and Coverage (SBC) for HRA documents