Consolidation & Close demo
CCH® Tagetik manages complex financial, statutory and management consolidation processes in a single structured and controlled environment that assures consistency across financial, statutory and management reporting.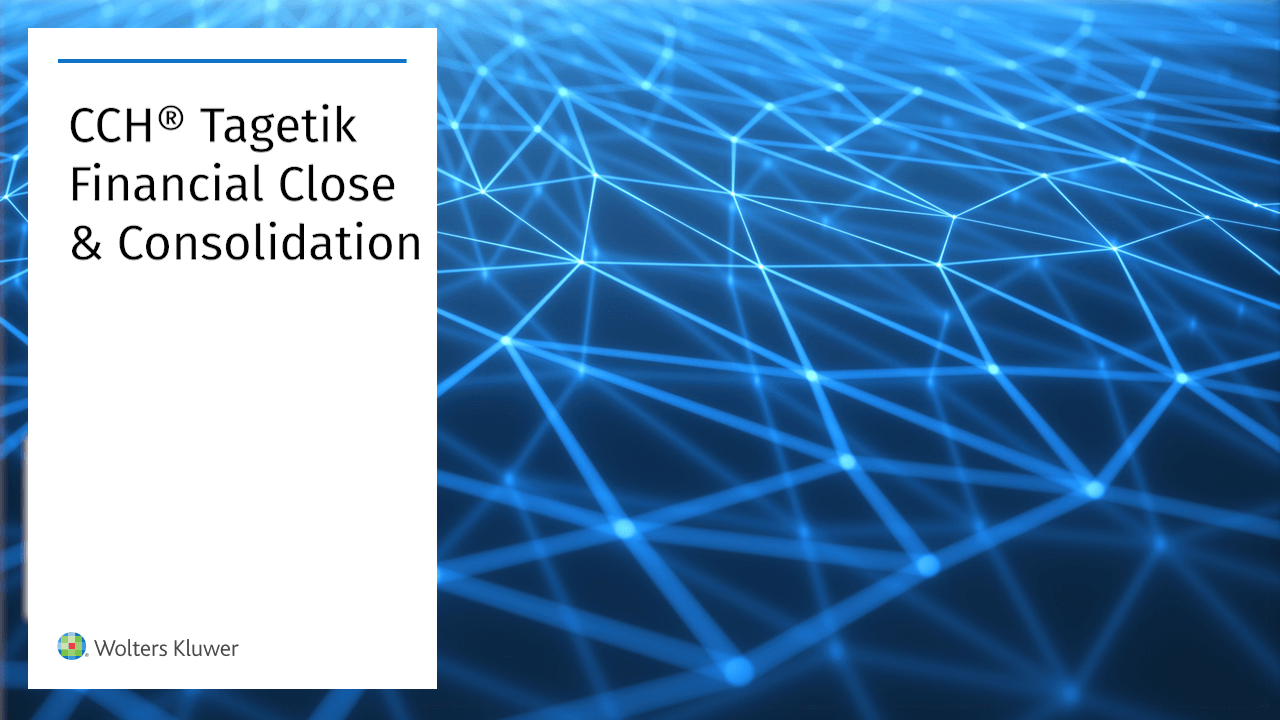 The Smart Close experience in CCH Tagetik starts on your solution's homepage.
It's the entryway to all close processes from A to Z, including reconciliation, consolidation, closing and reporting.
You can customize your homepage by adding direct links to reports based on your needs.
For example, you could link to content that reflects the actions you're required to take most often and your responsibilities within the process, or the information you're most interested in.
This way, you're only one click away from the information you need and the process you need to follow.
Next, let's assume your financial reports package is spotlighted on your homepage, and you want to access your financial statements. With a simple click, you can deep dive into the "income statement." The power of having CCH Tagetik as your unified financial platform is that you get a straightforward comparison of major data versions, such as actuals, budgets, and, in this case, the forecast for the month of February, at the click of a button.
You can easily compare different versions of financial data using the same kind of visualization, in this case, leveraging the income statement template.Another example of CCH Tagetik's power is its ability to disclose numbers and narratives, together.
This allows you to create illustrative reports, like the annual report, and increase efficiency across the whole reporting cycle.
To see how this works, let's take a look at the table of contents in your annual report.
10aGenerally, you have a chapter for strategy, a chapter for business review, and a chapter for financial information.
Since CCH Tagetik seamlessly integrates with Microsoft Office, it automatically integrates both the data and the narrative content that these three sections require.
What's more? It facilitates a collaborative environment where multiple contributors can work together on the same report. But every time we talk about creating or disclosing financial statements, we all know that the biggest challenge is dealing with data.
The data have to be enriched, normalized, and structured through specific reporting processes.
In CCH Tagetik, reporting tools are available throughout all financial processes, including statutory consolidation, close, consolidation, or planning.
Reports are just one click away.
Let's take a closer look at the close and consolidation environment to learn how your data flowed through.
The first thing you see when you enter the environment is your process cockpit.
It's your control center and displays who does what, when and how as you move through the close and consolidation process. This process is governed by a sequence of steps — a big improvement when compared to legacy consolidation systems. In legacy systems, contributors typically deliver their data in a single step.
It then falls into the hands of the consolidator to validate the numbers, fix errors and review submissions, without any intermediate steps.
CCH Tagetik strengthens the involvement of your team by dividing the submission process into several steps, controlled through a workflow that enables your team to collaborate easily.
This keeps everyone on track, reduces bottlenecks, fosters seamless collaboration, and ensures that everyone involved is accountable for deadlines and duties.
And you get full control of the process. How can you structure your workflow in CCH Tagetik? As an example, here you see that the process of ledger submission is split into two steps.
Step one, for sales and gross margin.
And step two, for the full trial balance.
The key point is that you can organize your financial close submission as soon as the data are ready. Once you share the numbers with the consolidation team, they can consolidate the data that are available.
That's our "any-time consolidation" approach that, as per our example here, can be applied to Sales and Gross Margin.
Then, when the full ledger is provided, you can start your statutory consolidation.
This has a positive impact on the financial close because you can enrich the financial close with data analysis as soon as the data become available.
Now, let's take a look at the data flow around the Sales and Gross Margin submission.
In this example, you have sales at a granular level, Intercompany sales, Cost of Goods Sold (COGS) and Reporting on Gross Margin.
By opening the sales web form, you can preview the level of data granularity you can access and investigate.
Let's assume the gross margin consolidation of sales data, as per our example, will be done from a source-level of granularity, embedding specific analytical details. This means that you'll execute the management consolidation task with a large amount of granular data coming directly from the ERP or another source system.
The report you have available here is called "Virtual Data Set" for a good reason.
It's because CCH Tagetik can link to the data's source system through virtual data set.
Since your data are never copied in CCH Tagetik, you consolidate the data coming directly from the ERP or source system.
With no redundancy and preserving data consistency across the entire process. That's the power of CCH Tagetik's real-time consolidation approach. Now, let's move on from the first step of the flow, which requires you to elaborate sales data for your management consolidation submission, to the next step, which requires you to load the full ledger.
At this stage, it's pivotal that you can quickly understand your data.
Your understanding hinges upon your ability to link data to different levels of granularity.
For example, in CCH Tagetik, you can load data coming from the local ledger of an entity by running an ETL.
Then, you can manage data at its original granularity in order to perform row-level checks and quality checks and fix any errors.
By opening this data repository that has been integrated, you have the chance to work with data at a very granular level. For instance, you can detect mistakes.
In this case, you see that account 70010 has not been mapped with a proper chart of account element.
To remedy this, you simply modify the entry, save it and send this data as a ledger for your entity. As an alternative, based on your governance rules, you could open the mapping table and adjust directly in there.
You can further enhance granular data validation by defining specific data quality checks and rules related to the data model.
You can also set specific rules to deal with common errors.
This avoids the need to correct data again at the source system, instead of applying fixes directly in CCH Tagetik – and without IT intervention. Once data have been loaded, you can then aggregate at group level the chart of accounts and open the financial statement template.
In this case, you are entering into the income statement, checking balance sheet.When you need to better understand your data, you can explore more granular details by selecting a specific cell and then drilling through to the source detail, or ledger detail.As you can see, in CCH Tagetik, it's easy to seamlessly move from granular data to aggregated data — and vice versa — simply with one click, and without the need for logging in and out from different systems.
Since your granular data are in our unified platform, you can always use them in analysis.
For example, you can compare the current year's transactional-level information with the same transactional-level information of the previous year.
Getting your comparison of current-year receivables to previous-year ones.
With CCH Tagetik, you can always investigate and drill through granular and aggregated levels of data based on your needs.
But data granularity is not the only capability CCH Tagetik gives you.
Another important out-of-the-box functionality is our smart intercompany matching. In CCH Tagetik, intercompany matching is managed in an easy-to-use cockpit.
In the cockpit, you'll find a list of entities with a highlighted indication of the matched and unmatched relationship.
Each includes a specific example of the reconciliation's rules, such as sales expenses, interest income, account receivable and account payable. To see how easy it is to set financial features in CCH Tagetik, let's go back to your homepage.
From here, we'll enter into your intercompany (IC) setting area.
Here, you'll find the elements we saw in our cockpit before, such as sales expenses and interest income expenses.
These elements are your inter-company reconciliation rules.
To set a rule, simply create a new element in this table, and then define the logic of the rule.
For example, you can decide to modify the interest income and expenses setting throughout the intercompany matching tab where you can increase the threshold, for instance, from 5,000 up to 15,000. By saving your changes and going back to your intercompany cockpit, you'll see that the thresholds is now applied to the cockpit.
And what was marked as an unmatched relationship before, has now been marked with a green light. That's CCH Tagetik standard approach to parametrization in a nutshell.
No custom scripting or extensive customization needed.
While these are big upgrades when comparing CCH Tagetik to standard legacy consolidation systems, there's more. Another important differentiator is the choice to have all elements impacting the consolidation process defined by journals. Journals embed credit and debit lines for both manual and automatic journals.
.This is really important for auditing.
It ensures you always have a journal number through which you can understand the information that is applied to a specific entry, in a specific item, and on a specific account. Throughout journals, the consolidator can impact the consolidation results. As the consolidator, you have your own view and your own workflow.
As you can see, you're allowed to apply the consolidation journal. In CCH Tagetik, you have both automatic eliminations and manual journals embedded in journals and defined by a unique code applied to specific category of data.
This gives you the chance to provide auditors with a journal book, which is the synthesis of all the elements used in a specific closing and consolidation scenario. You can provide the auditors all the information they need without advanced filtering or BI analysis. At this point the consolidator can run the consolidation and check results using reporting templates.
Here, you see an income statement.
Then the balance sheet and the cash flow.
This data should then be validated and fed the annual report to meet your disclosure needs.
So, there you have it.
That's how CCH Tagetik is accelerating your Close from A to Z.
In summary, your processes are under control, your data are 100% consistent, and your reports are always updated with the latest information.
In CCH Tagetik's end-to-end solution, you can manage consolidation collaboratively by having all the tools you need at your fingertips — and without IT intervention.
Solution
CCH® Tagetik
Financial Close & Consolidation
With CCH Tagetik Financial Close and Consolidation Software, we manage the complexity so you can accelerate the close.