CCH Signatures provides fast, secure electronic document signing on a range of devices.
Connect with your clients easily and securely, wherever they may be located — online, in your office, or in their own home.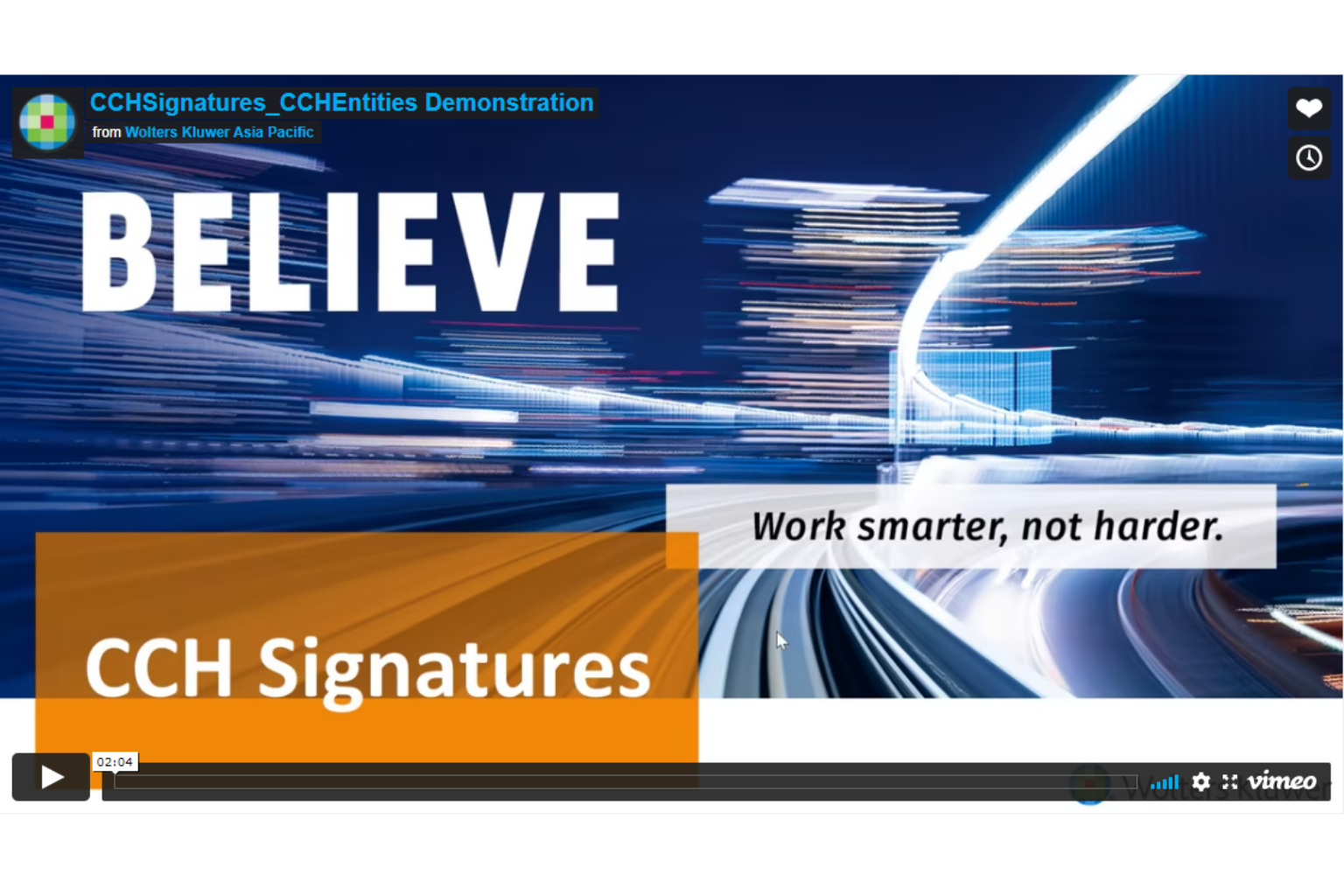 Available as a standalone solution or fully integrated with
CCH iFirm Client Portal
, CCH Signatures is a fast, secure and cost-effective way of completing your document approval processes.
Ready to get started?
Contact one of our experts
CCH Signatures FAQs
What are the different types of digital signatures?

CCH Signatures has three different types of workflows.

E-sign –  one recipient
Parallel – multiple recipients can sign in any order
Serial – recipients must sign in the order instructed by you

Is there any size limit for a package?

The maximum envelope size 30MB.

Does my signer need special software to sign?

No special software is required. 

How long are documents stored in CCH Signatures?

Documents are saved in CCH Signatures for a maximum of 90 days.

What is the minimum requirement?

Supported browsers

Google Chrome (latest version)
Internet Explorer 11 (on Windows 7 and Windows 8.1)
Microsoft Edge (latest version)
Firefox (latest version)
Other

Adobe Reader (latest version) – must be enabled

Cookies – must be enabled

SSL – must be enabled

JavaScript – must be enabled

Advisory: Safari & Google Chrome on iOS When viewing eSigned PDFs using Safari or Google Chrome on iOS, please note that the graphical representations of the signature and other text injected into the PDF at signature may not be displayed correctly due to Safari and Google Chrome's PDF reader's inability to display Digital Signature markup. If you wish to view the graphical representations, please install the Adobe Acrobat iOS app and copy the eSigned PDF to Adobe Acrobat using the option presented to you in Safari on iOS.

Where can I find the signing certificate information?

It is within the signed PDF document. Simply select Signature Panel on the top menu or right-click into the actual signature.

Is CCH Signatures compatible with Government offices?

Yes, it is compliant with ATO, ASIC, NZCO, IRD.

Are CCH Signature Packages secure?

In today's heavily regulated financial marketplaces, we ensure our client's documents are managed in a secure, compliant manner.

CCH Signatures uses SHA-2 generated SSL certificates with 2048 bit RSA encryption.
Request further information
For a personalised demo, pricing and further information, please fill in the form below.
You are missing something amazing
Please accept cookies to see the form. You can update your preferences by clicking the button below and accepting all cookies. For more information, please review our Privacy & Cookie Notice.