Streamline compliance and drive strategic, sustainable growth
with CCH® Tagetik ESG & Sustainability
You've walked the ESG walk — now it's time to talk the ESG talk.
CCH Tagetik ESG & Sustainability gives everything you need to manage ESG reporting and the data intelligence to achieve long-term sustainable growth.

Address ESG evolving requirements with a pre-built and configurable expert solution that streamlines data collection, calculation, and KPI disclosure. Beyond compliance, the true power of this solution is that it shows you how ESG initiatives and financial performance converge. By embedding ESG KPIs into your financial and operational plans, you're equipped to improve decision making, identify growth opportunities, and combat risk – credit, climate, reputational, and more.
Build a better future. With CCH Tagetik ESG & Sustainability,  you'll facilitate compliance while driving sustainable strategies that improve outcomes and your ESG score.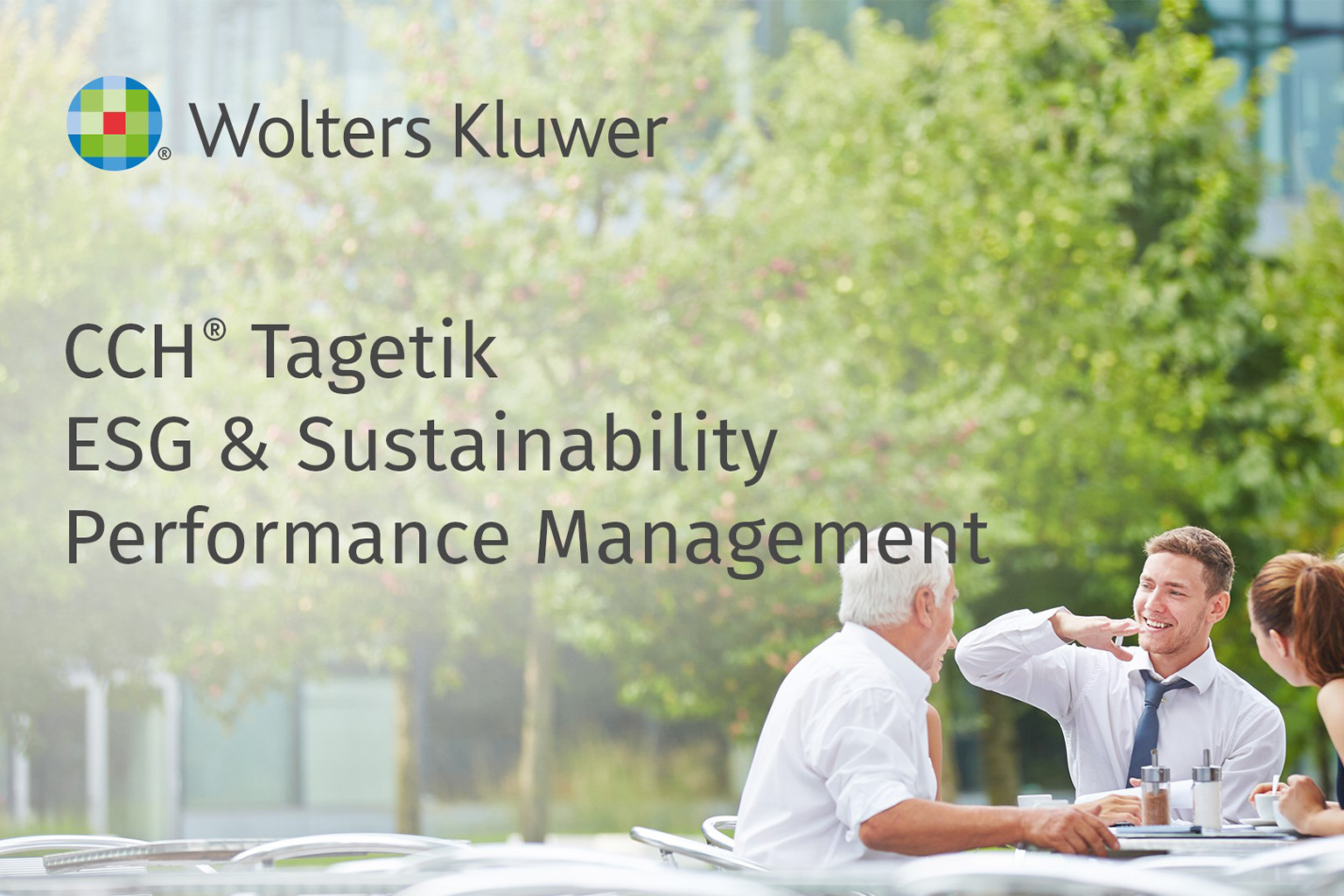 3 reasons why CCH Tagetik ESG & Sustainability lets you focus on your business
Read what our customers have to say
Logging ESG data manually in spreadsheets was painful and time-consuming, making it impossible to get a global, integrated picture of ESG gains and impacts. The CCH® Tagetik ESG & Sustainability expert solution is exactly what we need to help us set a long-term ESG strategy.
The solution's ease of use and its guided workflow will help streamline our ESG process and help us meet ESG requirements. We are excited to grow our usage of the CCH® Tagetik platform and are now more confident than ever in our ESG journey.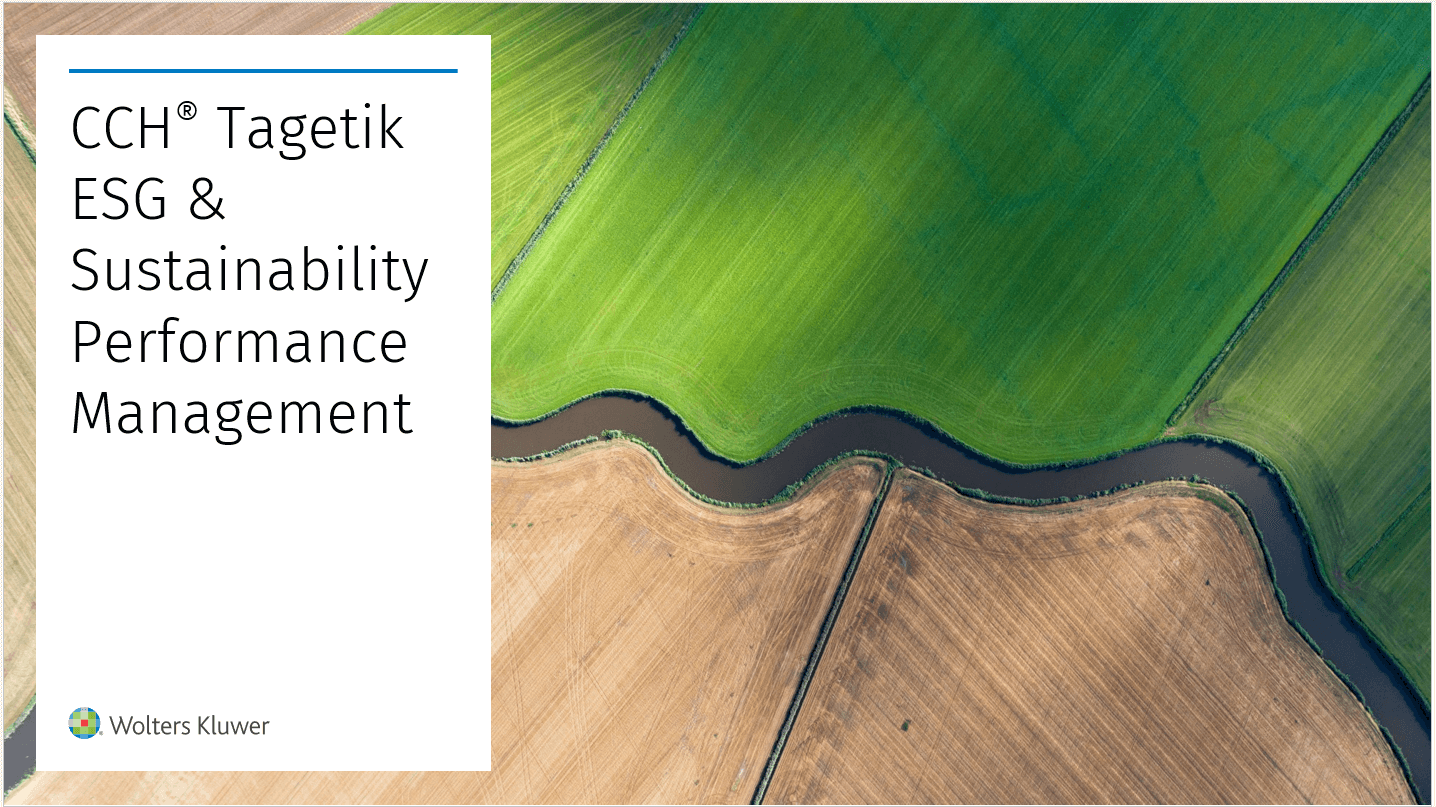 Streamline compliance with CCH Tagetik ESG & Sustainability
Meet evolving ESG reporting requirements with ease. Combining our regulatory expertise with a foundation for ESG data intelligence, your disclosures won't skip a beat as regulations and frameworks evolve.
Create disclosures confidently using pre-defined content
Improve control using a process workflow and audit logs
Centralize financial, nonfinancial and ESG data
Reduce risk with built-in calculations and standard reports
Improve your Environmental, Social and Governance score and minimize risk
Balance short-term financial performance with long-term sustainability. With insight into the cause and effect of ESG initiatives on financial outcomes, you'll create plans that serve ESG objectives, satisfy stakeholders, and make decisions that improve your bottom line.
Use strategic planning to improve decision making
Limit risk and optimize resources with what-if analysis tools
Simulate scenarios to optimize your ESG score
Create driver-based models to turn ESG insights into action
Fine-tune costs with a powerful allocation engine

With ESG and Sustainability Performance Management coming to the forefront of all businesses, CCH Tagetik provides a prepacked solution to help your organization meet all of your ESG needs.
In our on-demand demo, discover how technology can be leveraged to collect and analyze ESG data
Watch Video
Frequently asked question
What is corporate governance?
Corporate governance refers to the structures, processes, practices, policies and rules that control and direct an organization and all corporate behaviour. For companies, establishing corporate governance means a balancing act of stakeholders and their respective interests in an effort to align company activities with them.

What do we mean by stakeholders? There are two types: internal and external. Internal stakeholders refers to those with interests within the company, including executives, management, the board of directors and employees. External stakeholders refers to anyone affected by the corporation, including customers, suppliers, shareholders, investors, financiers, government, regulators and the public at large.

Ideally, corporate governance creates a set of rules and controls that everyone in the company abides by in order to not just reach company objectives, but even in setting them. Corporate governance implicitly refers to managing and monitoring the activities within a company in order to mitigate risk and manage behaviour in order to ensure corporate responsibility. It includes internal controls, performance management, reporting, disclosure, corporate values and data governance but that's not all. A comprehensive approach to corporate governance puts all these processes within the larger social, regulatory and market environment.

The UK's Cadbury Report, the OECD's Principles of Corporate Governance and the US's Sarbanes-Oxley Act list a set of principles and guidelines that set a standard for corporate governance and internal controls in an effort to hold companies more accountable for ethics, record keeping and reporting integrity.
ESG regulations have landed on the desk of major authorities. The EU is leading the way with the EU taxonomy, Sustainable Finance Disclosure Regulation, and New Corporate Sustainability Reporting Directive all recently effective. Even in regions where compliance is not yet mandatory, many companies are voluntarily adopting ESG frameworks in order to demonstrate an early commitment to investors, consumers, and other stakeholders.
Explore related solutions