You build their confidence, and we'll build yours
Help your students gain confidence in the skills they need to flourish in clinical practice with Lippincott® Skills for Nursing Education.
Preparation for practice
Help prepare students for both skills lab and clinical settings by providing opportunities to learn, practice, and develop clinical judgment.
Trusted content
Deliver expert-authored and evidence-based skills instruction from the market-leading fundamentals and skills author team of Taylor's Clinical Nursing Skills Collection.
Actionable insights
Effectively teach at the class and individual student level with easy-to-understand data and insights into student performance.
Engaging learning
Experience a modern solution that's easy to use, incorporating everything your students need to know, organized by skill — including videos, interactive case studies, and more — all in one place and on one platform.
Tested technology
Built on our trusted platform and continually improving, this solution is designed specifically to empower nursing faculty and students to support teaching, learning, and reporting on nursing skills across the curriculum.
Support to help you succeed
Ensure easy program integration with personalized training and support from our team of digital implementation specialists and nurse educator consultants.
The skills solution for success
We're optimizing the way your students master their clinical skills.
A new web-based user interface goes beyond a traditional eBook, delivering essential pedagogy, nursing process approach, and skill instruction optimized for online reading and on-the-go learning.
Skill Overviews use a consistent framework for each skill, with step-by-step implementation guidance and rationales.
Videos bring skill instructions to life, showing nursing students and their instructors performing a range of essential nursing procedures, carefully matching written skill instructions.
Quizzes for each skill assess students' understanding and preparedness for skills lab or clinical.
Case Studies help students develop clinical judgment skills and apply their knowledge in the context of patient care, with two types of cases:

Practice & Learn Interactive Case Studies engage today's active learners in content review, case study practice application, and assessment.
Integrated Case Studies reflect the complex combination of skills typically performed in nursing practice, challenging students to think critically and prioritize care.

Online Skill Checklists allow instructors to customize student evaluation and easily track skill performance, enter comments, and save and share checklist records with students electronically.
Skill-based organization of all resources ensures an efficient learning experience.
Enhanced reporting provides in-depth dashboards with key data points to help instructors track student progress and identify strengths and weaknesses.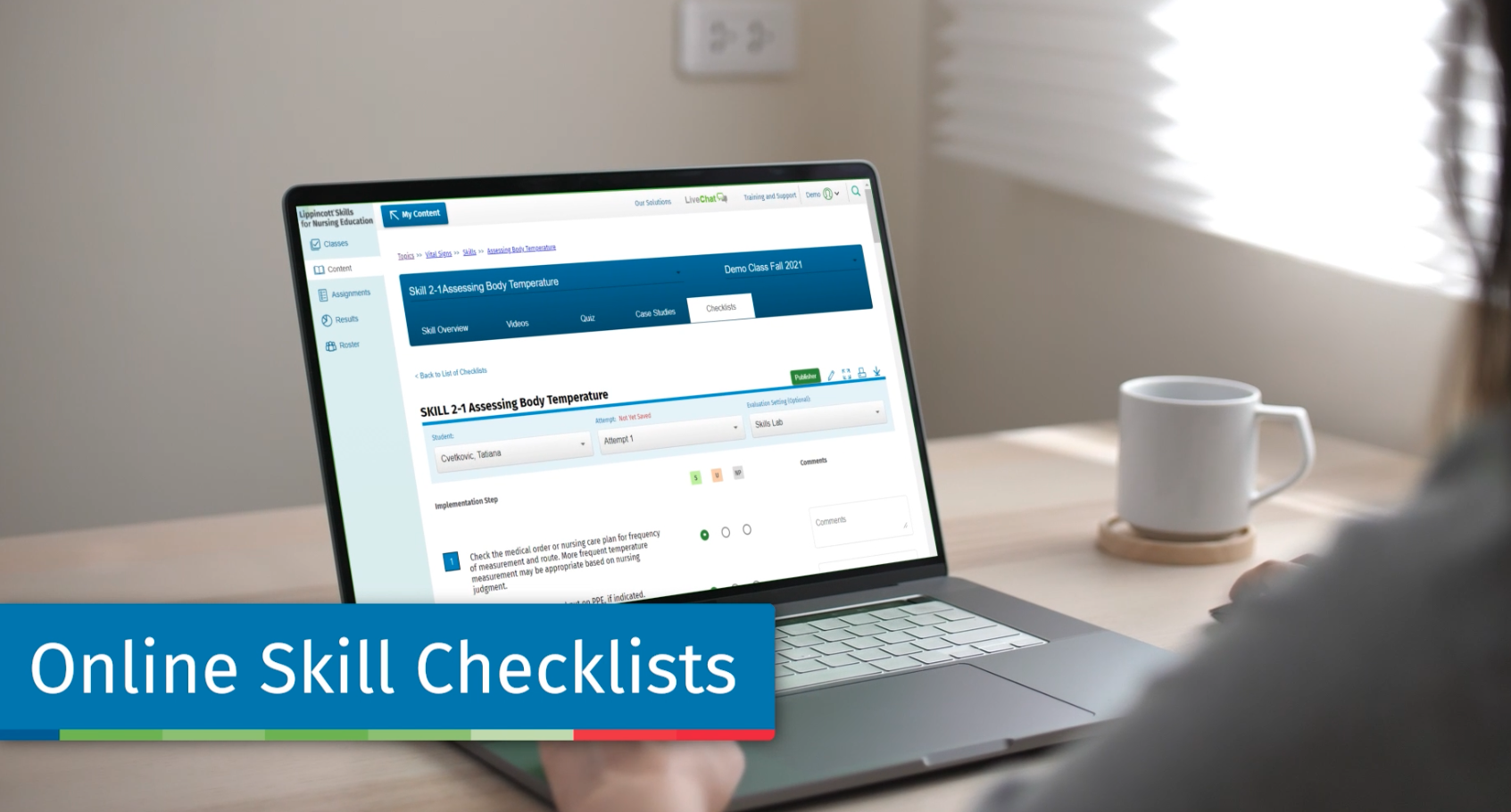 Unparalleled preparation for empowered practice
Pair Lippincott® Skills for Nursing Education with Lippincott® CoursePoint+, starting in Fundamentals and across the nursing education curriculum, to transform how your students develop skill competency and prepare for practice.
Get in touch with a representative
Complete this form and a Wolters Kluwer representative will contact you.